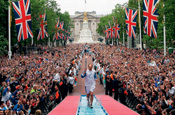 According to sources close to LOCOG, the London organising committee, negotiations are ongoing. Since last month's handover to London 2012 in Beijing, organisers have begun the search for tier-two and three domestic partners. It is not known at which level Cadbury hopes to strike a deal.
The partnership will represent another high-profile coup for LOCOG, which signed up seven tier-one sponsors ahead of the Beijing Games.
At the 2002 Commonwealth Games in Manchester, Cadbury was a presenting partner of the Queen's Jubilee Baton Relay. It was also an official sponsor of Team England and an official supporter of the other home nation teams.
A spokeswomen for LOCOG said: 'Since Beijing, we've had a huge amount of interest from companies that want to be a part of 2012. As we start looking at tier-two and tier-three opportunities, there will inevitably be speculation about companies that may be interested, but we won't comment.'
Cadbury was not available for comment.
Olympics brand ties
London 2012 currently has seven tier-one domestic partners - Adidas, British Airways, BP, BT, EDF Energy, Lloyds TSB and Nortel - and one tier-two partner, Deloitte.
The 2012 Games will also be supported by global partners including McDonald's, Coca-Cola and Samsung.
Sponsors can pay up to £80m for tier-one status, according to industry estimates.