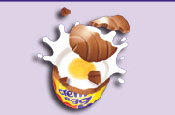 The confectionery giant has launched a web portal based on the 'Here today, goo tomorrow' concept used in its latest ad campaign.
The Creme Egg website has been developed by CMW Interactive to provide internet users with different ways of helping the eggs achieve their objective of releasing their fondant 'goo'.
As well as a selection of TV ads, the site features a personality test, a history lesson on 'goo through the ages' and a competition offering a prize of a box of Creme Eggs delivered in time for Easter.
Last year, Cadbury launched a branded channel on YouTube to give users the opportunity to watch videos of people eating Creme Eggs in elaborate ways. Consumers were also invited to upload their own clips.