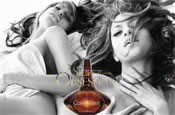 The deal, which will run for four weeks and will kick off before the campaign breaks nationally, will see Calvin Klein sponsor VogueTV and run banner advertising across the site. Calvin Klein will also offer exclusive sampling to Vogue.com readers.

Serena Privett, commercial director for CondéNet, said: "We are delighted that Calvin Klein has selected Vogue.com to break the campaign in the UK. This confirms the enormous potential Vogue.com offers our clients in both audience delivery and individuality."

As part of the commercial tie-up, Vogue.com will also be running a risqué version of the television ad which features Hollywood actress Eva Mendes. The TV ad has proved highly controversial in the US, owing to its sexual content.