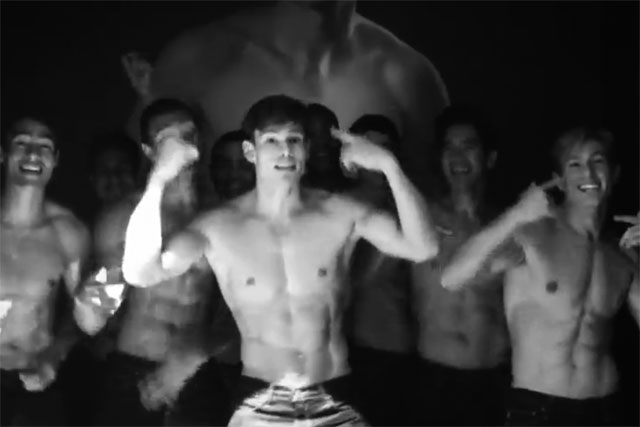 The ad, which features Abercrombie's famous, bare-torso models taking a trip around famous world landmarks while lip-syncing the pop hit, has been viewed almost six million times since it was published nearly two weeks ago.
The ad was created in-house and has generated 9,500 comments and 320 blog posts.
BMW has entered the chart in second place with a new ad, which juxtaposes classical music with slow-motion shots of its M5 car smashing at high speed through glass apples, targets and popping water balloons.
Created by Cundari, Toronto, the ad has been shared more than 150,000 times this week.
After topping last week's chart, Coca Cola's security cameras have fallen into third place with 74,517 shares, while a Nokia-exclusive trailer for the latest instalment in Christopher Nolan's 'Batman' franchise has entered in fourth with more than 62,500.
Elsewhere in the chart, PBS' remixing of US children's classic 'Mr Rogers' has slumped to sixth place, two weeks after it topped the chart.
The chart, produced in conjunction with Unruly, ranks ads according to the number of times they have been shared on Facebook, Twitter and the blogosphere.
Ads launched more than 30 days ago are not included.
Due to technical issues with Twitter's API, shares from the social network were not included in the count.
1. Abercrombie & Fitch 'call me maybe' created in-house
429,899 shares this week
All time: 1,300,780 shares
2. BMW 'bullet' by Cundari, Toronto
151,407 shares this week
All time: 176,695 shares
3. Coca Cola 'security cameras' by Landia
74,517 shares this week
All time: 449,629 shares
4. Nokia 'Dark Knight Rises' by Warner Bros.
62,631 shares this week
All time: 340,681 shares
5. Microsoft 'surface' created in-house
33,412 shares this week
All time: 258,829 shares
6. PBS 'Mr Rogers remixed' created in-house
32,790 shares this week
All time: 872,875 shares
7. Mercedes Benz 'the new A Class' created in-house
12,677 shares this week
All time: 31,602 shares
8. Aston Martin 'a bold new breed' created in-house
8,893 shares this week
All time: 17,742 shares
9. Coca Cola 'do that toe tappy' by Ogilvy & Mather
8,216 shares this week
All time: 21,242 shares
10. Nike 'Rooney' by Widen & Kennedy
5,585 shares this week
All time: 78,981 shares