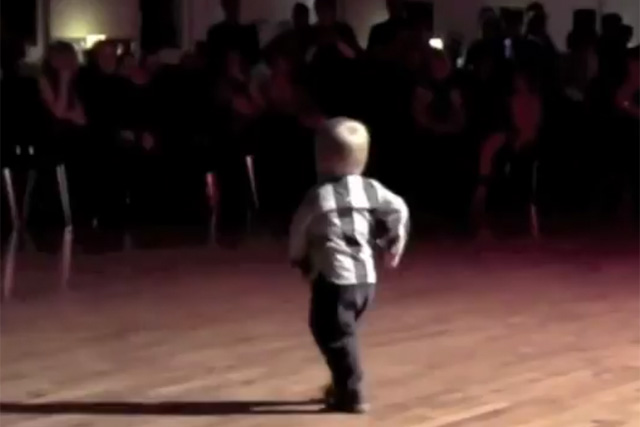 The amateur footage and ad for the toddler's parents' dance supplies store, has now been viewed 9.6 million times since it was posted in the middle of March.
Two-year-old Stokkebroe has since had a dancing shoe in the store named after him, with more videos his other routines gaining around 100,000 views each.
Three videos highlighting April Fools' products from Google have entered the chart this week.
Ads for Google's 8-bit Google Maps, a self-driving car and Google Tap - bringing morse code to smartphones to reduce keyboard size - were collectively shared 686,799 times.
A further ad for 'The Youtube Collection', which claimed to bring the Youtube experience to DVD, was shared 45,601 times.
The ads were the only April Fool's Day activity from brands this year to make the chart.
'The road we've travelled', a video from Obama for America, has risen through the chart to third place from seventh position last week, following the presidential election's funding deadline last Saturday.
'Obamaville', a video from presidential hopeful and Republican rival, Rick Santorum, has fallen off the chart after a strong Obama-beating performance last week.
A viral ad produced by Red Bull, following 12-year-old skateboarder, Tom Schaar, as he becomes the first person to ever successfuly perform a '1080' spin. It entered the chart in tenth position after being shared more than 2,000 times a day since it was posted at the end of last week.
The chart, produced in conjunction with Unruly, ranks ads according to the number of times they have been shared on Facebook, Twitter and the blogosphere.
Ads launched more than 30 days ago are not included.
Due to technical issues with Twitter's API, shares from the social network were not included in the count.
1. Studie43 '2 year old dancing the jive' created in-house
1,347,366 shares this week
All time: 1,479,753 shares

2. Google '8-bit maps for NES' created in-house
494,289 shares this week
All time: 530,228 shares

3. Obama for America 'the road we've traveled' by Electric Kinney Films
271,645 shares this week
All time: 289,445 shares

4. Google 'project glass' created in-house
209,589 shares this week
All time: 281,566 shares

5. Google 'introducing Gmail tap' created in-house
117,388 shares this week
All time: 123,335

6. Google 'self-driving car test' created in-house
75,122 shares this week
All time: 79,894 shares

7. Marshall 'introducing the Marshall fridge' by Moment Communications
53,782 shares this week
All time: 89,302 shares

8. Angry Birds 'space' created in-house
49,589 shares this week
All time: 86,462 shares

9. Youtube 'the Youtube collection' created in-house
45,601 shares this week
All time: 55,064 shares

10. Red Bull 'Tom Schaar's 1080' created in-house
14,213 shares this week
All time: 19,679 shares