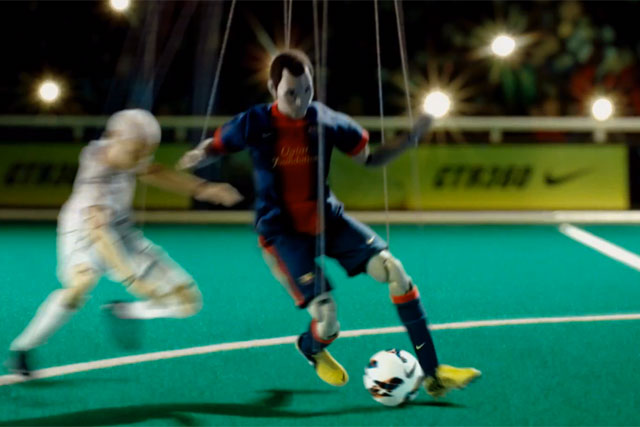 The Nike ad, created by Wieden & Kennedy London, stars Spanish footballer Andrés Iniesta who, for the majority of the ad, is represented by a wooden marionette puppet.
In the week of the Republican National Convention in America, political ads for President Obama's re-election make up three of the top six ads this week.
With a combined total of 38,674 shares and 1.6 million views, Obama overshadows rival and Republican hopeful Mitt Romney who last week announced Paul Ryan as his running mate.
The top Obama ad features interviews with Republican women who have changed their loyalties and plan to vote for the incumbent, Democrat president, whilst an ad featuring former President Bill Clinton sits in fifth place.
At fourth in the chart, Microsoft unveil its new look branding in an ad created in-house, generating 299 blog posts, 2.3 million views and more than 21,000 shares across Facebook and Twitter since it hit the web last week.
The re-branding follows the scrapping of Hotmail and comes as the company gears up to launch the Windows 8 operating system, Windows 8 Phone and its first tablet device, Surface.
Last week's most shared, the Lego Story created by Lani Pixels, has fallen into seventh position with little over 1,000 shares a day in the last week.
The chart, produced in conjunction with Unruly, ranks ads according to the number of times they have been shared on Facebook, Twitter and the blogosphere.
Ads launched more than 30-days ago are not included.
1. Obama Biden 'Republican women for Obama' by Obama For America
15,077 shares this week
All time: 24,444 shares
2. Obama Biden 'the do-over' by Obama For America
14,719 shares this week
All time: 19,412 shares
3. Volvo 'ballerina stunt' by Forsman and Bodenfors
8,115 shares this week
All time: 40,812 shares
4. Microsoft 'Microsoft unveils a new look' created in-house
7,565 shares this week
All time: 21,680 shares
5. Lego 'the Lego story' by Lani Pixels
7,212 shares this week
All time: 146,386 shares
6. Obama Biden 'clear choice' by Obama For America
6,878 shares this week
All time: 23,323 shares
7. Nike 'CTR360 Maestri III' by Wieden & Kennedy London
4,787 shares this week
All time: 8,291 shares
8. Little Baby's Ice Cream 'special time' created in-house
3,498 shares this week
All time: 159,969 shares
9. Channel 4 'meet the superhumans' by 4Creative
3,375 shares this week
All time: 156,312 shares
10. adidas 'the return of Derrick Rose' by 180 LA
568 shares this week
All time: 49,830 shares
Follow @brproducers