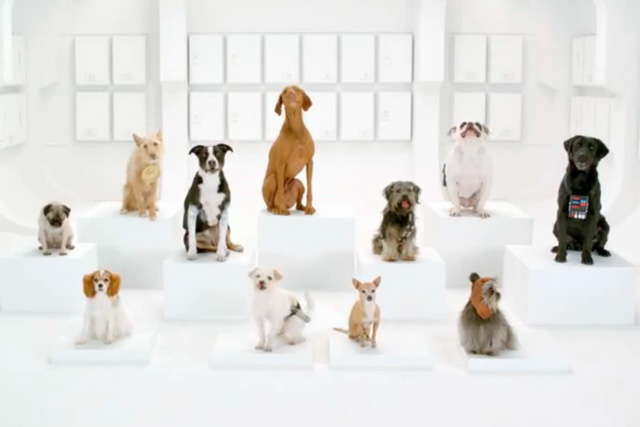 The ad, in which a choir of dogs bark Darth Vader's imperial march from 'Star Wars', received 515,149 shares across the social web this week, which now sees its all-time shares total raise to more than 560,000.
In the wake of VW's success with the ad, which took first place in Campaign's list of most shared ads of 2011, Vodafone this week launched its new campaign, featuring Yoda.
Last week's most shared ad from Coca-Cola Tunisia has taken second placed after being shared 58,384 times - just 800 times less than last week.
A seven minute promotional film for Apple's re-invention of the textbook has also entered the top 10. The ad, created by TBWA and featuring teachers talking about technology in education, was shared more than 10,000 times.
The chart, produced in conjunction with Unruly, ranks ads according to the number of times they have been shared on Facebook, Twitter and the blogosphere.
Ads launched more than 30 days ago are not included.
Due to technical issues with Twitter's API, shares from the social network have not been included in this week's count.
1. Volkswagen 'the bark side' by Deutsch, LA
515,149 shares this week
All time: 566,250 shares

2. Coca-Cola 'si lemhaf' by FP7 McCann, Tunisia
58,384 shares this week
All time: 139,526 shares

3. Capcom 'Resident Evil 6 trailer' by Primesight
46,272 shares this week
All time: 85,972 shares

4. Type 'the joy of books' by Lowe Roche, Toronto
16,603 shares this week
All time: 238,617 shares

5. Wheat Thins 'WHheat thins' by Being, New York
12,968 shares this week
All time: 33,826 shares

6. Nike+ 'fuelband' by Wieden+Kennedy
12,440 shares this week
All time: 15,060 shares

7. Apple 'the textbook reinvented' by TBWA
10,692 shares this week
All time: 13,449 shares

8. Shamwow 'schticky' by Kaplan Thaler Group
9,094 shares this week
All time: 46,048 shares

9. Nitro Circus 'the movie 3D trailer' by Red Bull Media House
3,831 shares this week
All time: 92,078 shares

10. LG 'smart thief caught on camera' by Y&R, Amsterdam
2,826 shares this week
All time: 66,204 shares