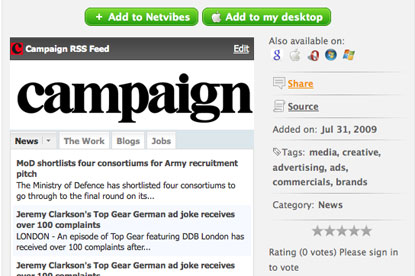 The widget will automatically update you with the latest news, creative work, blogs and jobs from Campaign magazine, in real time.

The NetVibes widget can be easily installed on to your Mac or Windows Vista dashboard, giving you instant access to the latest adland events.

It can also be easily added to your NetVibes page, and also through iGoogle, Opera and Windows Live.

To download the widget, click here, and simply choose your chosen delivery medium.

Please send any comments or suggestions regarding the widget to colin.marrs@haymarket.com.