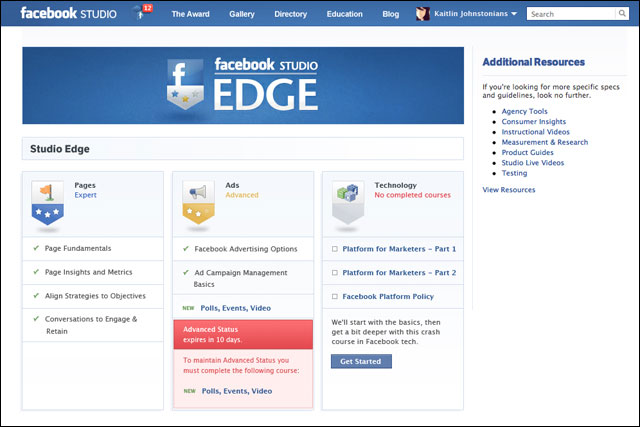 The social networking giant has created a feature called Studio Edge, which will sit within the revamped homepage of its advertising showcase portal, Facebook Studio.
Individuals from the creative community will be able to set up profiles where they can display links to their work and information about their agency.
It has also set up an accreditation scheme, which enables users to collect badges to show their level of experience and understanding of the platform.
The various levels range from Facebook basics, to more advanced levels such as page management and advertising.
Speaking to Campaign, Mark D'Arcy, director of global creative solutions at Facebook, said the plan was to get agencies to implement the learning scheme for employees.
He said he believed Studio Edge would also become a useful tool for marketers when selecting an agency, because they would be able to browse through the site and see which ones had the best work and accreditation.
He said: "If you think that Facebook is a relatively new platform and what we are inviting the creative community to do, and what they are already doing, is to embrace this platform, experiment and learn.
"We think of it as a scalable solution to ramp up social by design thinking and education for not just the creative team, but the whole agency."
Facebook has also announced that it has formed a Creative Council, primarily comprised of chief creative officers from global agencies, following last year's announcement of a Client Council for marketers and agency heads.
The idea of the council is to enable leading creatives to come together and talk with Facebook about the best way it can service their needs.
The 14-strong council comprises:
Linus Karlsson, chief creative officer for Global Brands at McCann
Mark Waites, chief creative officer and founder of Mother
Rob Feakins, chief creative officer and president at Publicis
James Hilton, chief creative officer at AKQA
David Droga, founder and chief executive at Droga5
Nick Law, chief creative officer at R/GA
Colleen DeCourcy, founder and chief executive of Socialistic
Mike Lazerow, co-founder and chief executive of Buddy Media
Mark Tutssel, chief creative officer at Leo Burnett
Amir Kassaei, worldwide chief creative officer at DDB
Toshiya Fukuda, chief executive and executive creative director at 777
Rob Reilly, chief creative officer at Crispin Porter & Bogusky
Tor Myhren, chief creative officer at Grey
Jeff Benjamin, chief creative officer at JWT
D'Arcy is hosting Facebook's first Creative Council at the Cannes Lions Advertising Film Festival this week.
Publicis Groupe's VivaKi has been piloting Studio Edge in London and New York.
Michael Wiley, chief social media office at VivaKi, said the idea came about following a Publicis trip for agency leaders to Palo Alto where they suggested a training scheme.
He said that Facebook, with its 900 million members, was a "priority" for agencies.
He explained: "I think there is a career play here. Whether you are in creative agency, marketing, or PR, if you are not skilled in basic Facebook practices your brand could appear obsolete.'
Wiley said there had been a "turf war" between different types of agencies doing Facebook activity for clients, and they would have more success if they worked together.
Follow Sarah Shearman on Twitter @Shearmans