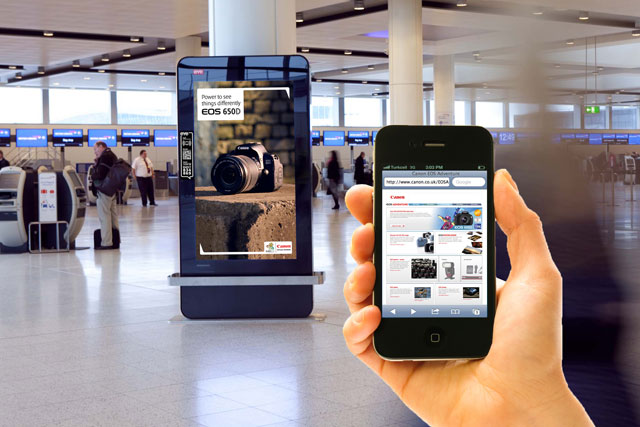 Amplify allows passengers to interact with more than 8,000 Eye sites in malls and airports worldwide through embedded near field communication (NFC) technology, QR codes and SMS functionality.
The first activity will take place at Gatwick and Stanstead airports and will gather passengers' mobile data from a digital out-of-home (OOH) unit, in a promotion for the company's EOS 650D camera model.
The campaign was planned and bought by PHD International and outdoor agency PSI (Posterscope International) and enables Canon to track response rates and interactivity levels, which Eye claims delivers a fully accountable campaign.
There are 206 panels carrying the amplifying platform in the UK. The campaign will include 114 Amplify panels split between both airports.
Gill Rowe, account director at PSI, said: "Through our campaign with Eye, Canon has an impressive opportunity to extend the reach of their campaign beyond the airport by using the new Amplify platform.
"Canon can run a mobile-led conversation which gives them higher levels of engagement and increases the campaign's effectiveness."
Alastair Bannerman, global marketing director for Eye, said: "Media companies are good at exclaiming change to the outside world, without always delivering the substance to back it up.
"Our new offerings have been developed to make our brand positioning real and valuable for our customers."
Eye recently released a study in partnership with brain-imaging research company, Neuro Insights, which examined the effects of OOH advertising on people's brains.
Follow Nick Batten on Twitter @NickBatten2