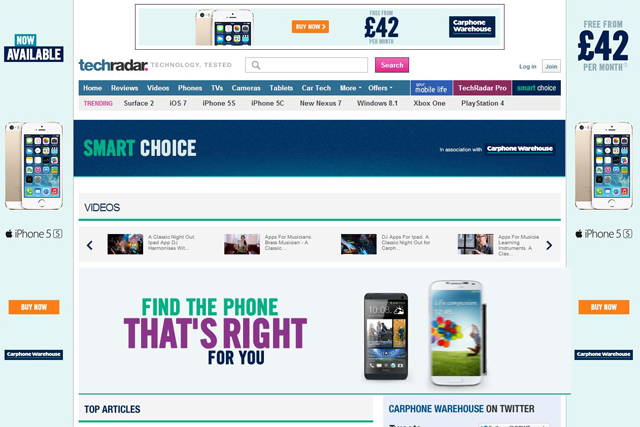 The mobile phone retailer is aiming to reach consumers in the early stages of thinking about upgrading their smartphone through the tie-up with Future's technology brands, which the publisher claims reach more than five million people the UK each month.
The partnership centres around on a 'Smart Choice' content hub that has been created within TechRadar's technology news and reviews website.
Carphone Warehouse claims there is a three-month "consideration phrase" when people review options for their next handset purchase. It wants to reach consumers in this state of mind, to provide them with engaging information about choosing a new phone.
The Smart Choice hub offers in-depth information to those thinking about upgrading, including answers to questions from consumers researching their next handset and reviews and news about phones.
Video content is integrated into the hub, in partnership with Carphone Warehouse's video agency, Adjust Your Set.
Tech lifestyle magazine T3 and technology website Gizmodo will launch other digital activity later in the week.
The partnership was created by Future and Carphone Warehouse's media agency m/SIX.