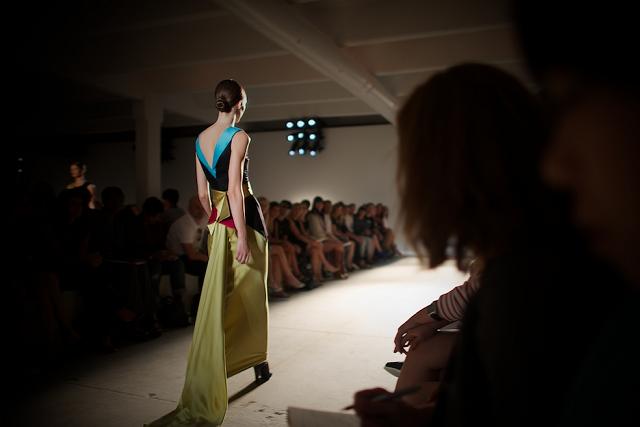 As the reach of the event extends beyond the fashion buyers and press through digital media, brands are capitalising on the chance to engage with consumers.
Vodafone, Mercedes-Benz, Toni & Guy, and Topshop are among sponsors directly targeting a wider audience through their association with the bi-annual London Fashion Week, which next takes place in the capital from 13-17 September.
In its ninth season as the official car sponsor for London Fashion Week, Mercedes-Benz is targeting a younger audience of 25 to 44-year-olds with a series of online fashion films.
Mercedes-Benz UK marketing director Andrew Mallery explains: "The [campaign] aims to make the brand more relevant to a younger target audience who engage through our social media channels."
Mercedes-Benz is working with presenter Reggie Yates on the four-part 'Style Pit Stop' series, which launches on 4 September.
A further three of the documentary-style interviews, featuring Yates driving a new Mercedes-Benz A-class to meet celebrities discussing their own style, are set to follow on 6, 11 and 18 September.
Consumer engagement
Using digital innovation to create engagement with consumers is also high on the agenda for Topshop, which partnered with Google for London Fashion Week's February events.
The retailer created a "Be the Buyer" fashion hangout app, as well as launching its "Model Cam" films during its Unique fashion show at Tate Modern.
A Topshop representative tells Marketing: "Last season was a phenomenal success, particularly with the Google partnership.
"We are always looking to progress and will be continuing to innovate this season, making our Unique show as creative and digitally engaging as possible."
Innovation will certainly be paramount for Samsung, which last year integrated its Galaxy Note 10.1 and Galaxy S III products throughout the showcase.
With the launch of the Samsung Galaxy Gear smart watch and its Note III product set to launch on 4 September, the electronics company is keeping its marketing activity under wraps for now, but its partnership with London Fashion Week is an ideal opportunity to promote its brand.
And while Vodafone has been busy with a swathe of marketing activity around its 4G launch, London Fashion Week is another chance for the principal sponsor to make its mark.
Vodafone is bringing around 50 customers to each London Fashion Week show through its VIP rewards scheme, to allow those not normally admitted to the industry event to feel part of an exclusive experience.
Meanwhile, Canon is planning to "inspire people" by rippling its coverage of the show out to consumers through social media.
Canon UK's consumer imaging group marketing director Susie Donaldson explains the business is developing an "end-to-end social media communication plan which covers activities before, during and after Fashion Week events".
"We are looking to inspire people to engage with Canon on a deeper level through the power of image with exciting competitions and social media content throughout London Fashion Week and London Fashion Weekend," she adds.
Similarly, Amex is taking the selfie trend to Fashion Week, by asking attendees to tweet pictures of themselves with an Amex Insider – people promoting the financial company's concierge service – which will then be shared on an onsite Twitter wall.
Talking points
According to Amex's vice president, head of international card products and experiences Lisa Gregg, raising awareness before the event and creating talking points during Fashion Week are essential ways to "amplify everything we are doing".
The brand will announce a partnership with an emerging British designer on 9 September, and Gregg adds that "bringing innovation to life" through content creation will be critical.
And in its 50th year, hair brand Toni & Guy is capitalising on the anniversary celebrations with a product sponsorship deal.
The brand's label.m range has been endorsed by London Fashion Week, where it will launch before being rolled out globally in 2014.
Toni & Guy global brand director James Tarbuck says: "Our initiative builds on Toni & Guy's current LFW sponsorship to include a brand-endorsing element."
The product range will be used in the London Fashion Week onsite salon, while backstage video content created from some 40 shows will be streamed on 'Toni & Guy TV' in salons and YouTube.
Media partner the Evening Standard has been involved with London Fashion Week since 2004 and head of fashion and luxury goods Maurice Mullen says that while "it is still a trade event, it generates a lot of publicity" which means there is a need for consumers not to "feel excluded".
"Since its 25th anniversary in 2009, it has really stepped up to the mark," he points out.
The Evening Standard is responding with daily show reports, as well as a special issue of its glossy lifestyle magazine ES, called Deluxe.
New for this season's shows, the Evening Standard will unveil 10 digital panels equipped with QR codes allowing attendees to download an interactive Deluxe app, with extended behind the scenes-type content such as designer Q&As.
"Interactivity is an ever-more important aspect of London Fashion Week," says Mullen.