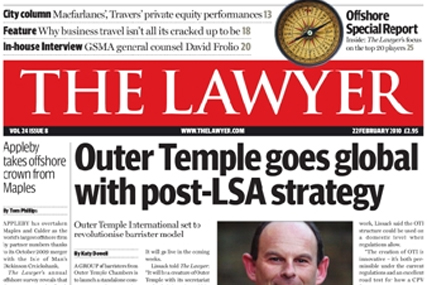 Centaur, headed by chief executive Geoff Wilmot, reported revenue of £23.9m.

In the same period a year earlier, the company made a £100,000 pre-tax loss on revenue of £31.5m.

However, the group said it had witnessed a moderation in the rate of decline in revenue – pointing to a 15% revenue decline in the last two months of the period, compared to a 29% drop in the first four months.

Centaur, which axed a number of underperforming titles last year, has a number of divisions including legal & financial; marketing & creative; construction & engineering and general business services.

Across legal & financial, which publishes The Lawyer, revenue dropped 24% to £6.6m, compared to £9.7m in the first half of 2009, after it was hit by a tough legal recruitment market. However, the group said revenue reduction was partly offset by a 19% reduction in costs.

Its marketing and creative division reported a severe year-on-year drop in revenues of 37% to £5.5m. Last year, the division closed titles Precision Marketing and Brand Strategy.

The group said that in the year to 30 June 2009, the division reduced its headcount by 40% but did not disclose specific headcount numbers.

Its flagship marketing title, Marketing Week, has been central to cuts at the group, as it competes in a highly competitive media and marketing environment.

Its awards ceremony, the Marketing Week Awards, is being relaunched under the new name, MW Engage Awards, in May.

Revenue across its construction and engineering division fell 20% year on year to £6.1m, partially due to the impact of ending its London regional home-building show.

Commenting on the results, Geoff Wilmot, chief executive, said: "While we report a further revenue reduction for the period, the trend towards improved trading conditions has continued, with positive signs of stabilisation across the group."