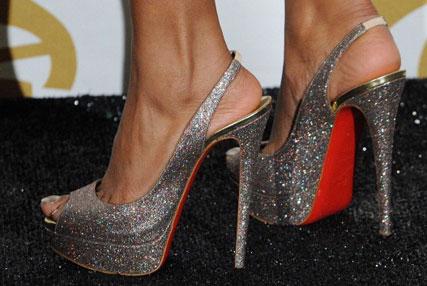 Shoe designer Christian Louboutin entered the fashion world in 1982, when he began an internship at Charles Jourdan. For the next decade Louboutin learned his craft, freelancing for high-profile fashion houses such as Chanel and Yves Saint Laurent, until 1992, when he set up his first, eponymous, shoe boutique in Paris' Galerie Vero-Dodat.
Louboutin's store showcased his unique design approach, one mainly inspired by fantasy, playfulness and sex. Louboutin's time spent working in the famous Folies Bergere music hall in 1981 had a significant impact on his work. He once remarked: 'Ever since I was very young, I have been obsessed with spike heels. The showgirls influenced me a lot.'
The brand continued to grow throughout the 90s, with stores opening in New York, in 1994, and in London, in 1997.
Louboutin aimed to provide his customers with an unbeatable experience: for every collection that he produced for his stores, he would seek out artisans with particular skills, insisting that it was important to have his shoes made by skilled craftspeople and not by modern, mass-production, factory machines.
It is his unique designs and signature red-soled, high-heeled shoes that make the Christian Louboutin brand such a success, particularly with celebrities. In a notably indulgent paternal gesture, Tom Cruise, for example, was reported to have spent $3000 on a custom-made pair of Louboutins for his daughter Siri - just one-and-a-half years old at the time.
Louboutin applies the same individual approach when designing his collections each year. To ensure that he produces consistently innovative yet desirable items, he designs his shoes in different, but highly appropriate, surroundings.
For his Autumn/Winter collection he requires a colder climate and so usually retreats to his chateau in Champgillon, in the West of France. Not surprisingly, for the Spring/Summer collection he seeks hotter climes: Egypt.
In 2007, in keeping with his highly sexualised design thinking, Louboutin collaborated with American film-maker David Lynch, producing a one-off series of shoes for a photographic exhibition entitled 'Fetish'. This artistic display further showcased Louboutin's talents and reinforced the idea that his shoes are not mere pieces of clothing but also pieces of art.
For 2011-12, Christian Louboutin celebrated the journey of the brand by creating his '20 shoes for 20 years' collection. This celebratory line was a reflection of the designer's favourite shoes from the past two decades and showcases the contribution he has made to fashion.
Since its inception in 1992, the Christian Louboutin brand has remained independently owned. The company continues to grow and diversify: this year it opened the first Christian Louboutin Men boutique store, on Rue Jean-Jacques Rousseau in Paris.
---
BRAND LESSON
By Andy Knowles, chairman, JKR
Patrick Cox, Manolo Blahnik, Jimmy Choo - even in luxury shoes, competition looms large. Yet, arguably, pre-eminent in this crowded field is Christian Louboutin. How did he do it? And what can we learn?
Lesson one: as when placing your bet in a sweepstake, go either high or low. If you are literally and metaphorically raising women onto a pedestal, make them feel fabulous.
Lesson two: exclusivity - the fundamental for luxury goods. Peerless quality, high price, controlled distribution. Supply reined in, just behind demand.
Lesson three: a signature device.
In Louboutin's case, the genius of his trademarked red sole, a status symbol for the wearer and beautiful IP for the brand.
Lesson four: mine a rich seam. Louboutin's constant reference to burlesque surely frees him from the curse of all fashion designers - the unending search for next season's idea.
Taking inspiration from Parisian showgirls could easily have been misconstrued, but the paradox of Louboutin's fetish for razor-sharp stilettos is that they both sexualise and empower the wearer. The brand empathises with its customers' intimate desires, making them an object of desire while staying firmly in control.
In today's mix-and-match world, canny women put on a pair of Louboutins and that dress from Zara looks a million dollars.
---
TIMELINE
1964: Christian Louboutin was born in the 12th arrondissement of Paris.
1981: Louboutin worked at the famous Parisian music hall, the Folies Bergere, which provided inspiration for his future work.
1992: The first Christian Louboutin boutique opened in Galerie Vero-Dodat, near the Louvre Museum.
1994: Louboutin opened his first boutique in New York.
1997: The Christian Louboutin store opened on Motcomb Street, London.
2002: Louboutin designed shoes for the final haute couture show of Yves Saint Laurent.
2006: The Fashion Institute of Technology in New York mounted an exhibition of Louboutin's work.
2007: Louboutin collaborated with film-maker David Lynch on an exhibition entitled 'Fetish', at the Galerie du Passage in Paris.
2011-12: The Christian Louboutin brand celebrated its first two decades through a capsule collection on the theme of '20 shoes for 20 years'. The collection brought together some of the designer's favourite shoes from his archive.