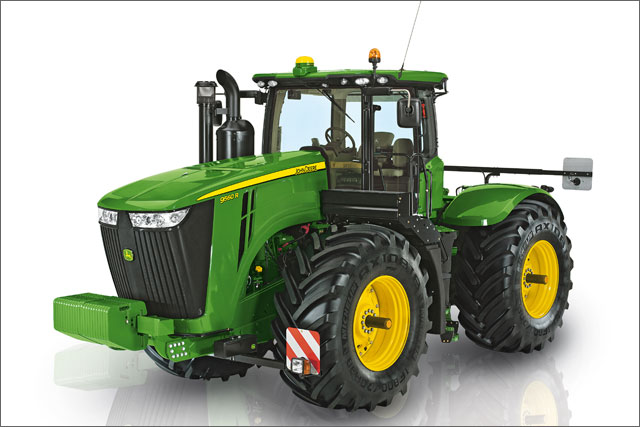 It might seem that
there are few areas less likely to be troubled by the vagaries of design than agricultural equipment. However, a survey of US farmers in 2010 found that 62% considered themselves brand-loyal.
That's quite a consideration when the products in question can cost hundreds of thousands of pounds. In this segment, John Deere reigns supreme – 66% of those US farmers said their primary tractor or combine harvester featured the brand's green-and-yellow livery.
Since it formed in 1837, the company has built an incredible brand loyalty by listening, and responding, to its users. Farming is a long-term business with generations of the same family often working the land, so seemingly less-established operations often fail.
Illinois blacksmith John Deere started making metal ploughs that could cut into the tough prairie soil. By 1855, he had a factory making more than 10,000 ploughs a year. With the Civil War in 1861, American farmers faced increased demand from the army, as well as European countries struck by crop failures. As large-scale Midwest farming developed, farm machinery improved to enable expansion.
In 1918, John Deere bought the Waterloo tractor company and moved into the mechanised age. As technology advanced, US farms grew in size, while the labour force shrank. The move to tractors also gave birth to the company's green-and-yellow colour scheme, symbolising the prairie and the sun.
Image has been important to the company since the 1930s, when it hired industrial design agency Henry Dreyfuss Associates to make its products as aesthetically pleasing as they were functional. Dreyfuss streamlined the Model A and B tractors and, despite the Depression, they became the most popular in the firm's history. Deere also earned loyalty by supporting debtor farmers, which helped sales rebound in better times.
By the 1950s, the brand was becoming international, building a tractor assembly plant in Mexico and buying a majority interest in a German tractor and harvester maker with a small presence in Spain. Expansion to France, Argentina and South Africa followed, before John Deere opened a UK base in Nottinghamshire in 1966.
Although renowned for agricultural equipment, John Deere is also a major player in forestry, engine manufacture, groundcare and the residential market. Ironically, one of the few pieces of agricultural equipment it no longer sells is the plough. The company is a big investor in R&D, focusing in recent years on satellite-guided steering systems, hybrid electric engines for its turf mowers, and efficient dual-clutch technology in its tractors – a first for agriculture.
John Deere celebrated its 175th anniversary in 2011 and last year reported a profit of $5.1bn (£10bn) on sales of $36bn (£24bn). The company employs 60,000 people worldwide.
---
BRAND LESSON
By Andy Knowles, Chairman, JKR
With one in three tractors sold in Britain a green-and-yellow 'un, there are lessons aplenty from market leader John Deere.
Naturally, engineering is pivotal to its success – strong drivetrains, smooth hydraulics and the latest in sat-nav guidance take the labour out of ploughing, sowing and reaping.
Surface design plays a supporting role. Raked bonnets and sharks-gill air intakes give the range a recognisable silhouette, while the bright colours complement the wonderful economy in the logo – a simple deer to represent a Deere. Who knew that tractors could be cool enough to seduce the landed gentry and plain-talking Yorkshire farm boys alike?
Sleek design is only half the story, however. Wide distribution and after-sales service are key sources of competitive advantage to this highly informed customer base. Should one's John Deere fail during the harvest scramble, you will need it up and running again before the morning dew has lifted.
If dedication to improvement and American spirit led John Deere to conquer the world, its number-one status rests today in the hands of the dealerships all around the country.
As we know from Byron Sharp, it's the synergy of mental and physical availability that truly makes brands grow. That's why pretty much everyone in farming knows a Deere owner, and it's what makes it such a worthy champion of design.
To download this year's CoD book, visit www.brandrepublic.com/go/championsofdesign.
---
TIMELINE
1837: Blacksmith John Deere built a steel plough that let farmers furrow sticky soil in the American Midwest.
1848: Moved to Moline, Illinois.
1868: Incorporated as Deere & Company. John Deere and son Charles controlled 65% of shares.
1869: The first distributor was established in Kansas City.
1876: Leaping deer trademark was registered.
1895: Launched The Furrow magazine, which is still published in 40 countries.
1912: Listed on the New York Stock Exchange.
1918: Bought the maker of Waterloo Boy tractors.
1958: The John Deere Credit Company was launched.
1963: Became the world's biggest producer and seller of farm equipment and tractors.
1972: Introduced the 'Nothing runs like a Deere' tagline.
2010: R&D spend topped $1bn.
2011: Celebrated its 175th anniversary.