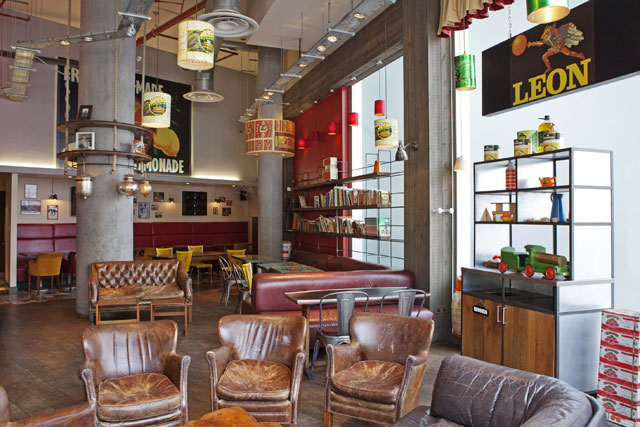 In the fast-food-crammed UK
, it's hard to think of a gap that has not yet been exploited. However, the 2004 launch of Leon was an attempt to prove that there was a market for more natural, yet still "fast", food that was tasty rather than simply worthy.
Founders Henry Dimbleby and John Vincent hit on the idea after they tired of the standard of motorway food available on trips to client meetings. The former management consultants wanted to tweak the fast-food model to include tasty, healthy ingredients, served enthusiastically.
Leon eschews hair-shirt notions of healthy eating, for a "good life" approach. The founders reasoned that stuff that is good for you could be tasty, too. Rather than adopting a sniffy approach to traditional fast-food offerings, they explored what it is that such restaurants get right by signing on to work for Burger King.
This up-close experience gave them insight into the processes behind successful quick-service restaurants that they transferred to Leon.
Dimbleby roped in a family friend, chef Allegra McEvedy, as part of the founding team in 2003 and they opened the first restaurant, in Carnaby Street, the following year.
The restaurant shares its name with Vincent's father, a moniker chosen because it was simple, European-sounding and came with no ready-made associations. The company has ambitions to grow into a global brand.
It certainly got off to a good start. Within six months of opening, Leon was named the best new restaurant in Britain at The Observer Food Monthly awards. After a year, it had launched its second restaurant at Ludgate Circus.
From the start, the proposition has been to serve naturally fast food. Complex items, such as the best-selling meatballs, are cooked in a central kitchen, but other items such as salads and wraps are assembled in the restaurants.
Attention to detail is key – its meat is from RSPCA-approved farms, there is a focus on low-GI dishes and seasonality is a given. The restaurant is a founder of the Sustainable Restaurant Association.
The non-corporate design and feel of the Leon brand are a reflection of the founders' vision, helped along by various designers and artists. The aim is to create a continental, fun, bright feel, with each design site-specific.
With 13 restaurants, the chain remains London-centric, with one outlier at Bluewater in Kent. There are plans for about three new sites this year and it is exploring franchising. Last year it issued a 'Leon Bond' to raise up to £1.5m in the absence of bank lending. Its decision to enlist former Burger King chief executive Brad Blum as an adviser in 2012 underlined its aspirations.
Leon's approach has caught the eye of education secretary Michael Gove, who recruited Dimbleby and Vincent to look at ways to improve school food. With their proposals due this year, the name of Leon is set to be on many more lips.
---
BRAND LESSON
By James Joice, Client Director, JKR
I've always been intrigued by Leon, largely because I've never quite been able to place it.
Restaurants normally categorise themselves by provenance and use design to project their own interpretation of that cuisine. Leon, however, presents an eclectic mix of different styles and influences both in design and menu. It teaches us that it's possible to appropriate other stuff and make it your own.
It's quite revealing that the name Leon was chosen because it has no ready-made associations. It was an empty vessel that has been filled with a melange of design; there's a taste of pop art, a blend of warm Mediterranean colours and just a little sprinkling of the Monty Python surreal. The effect is compelling. It feels familiar but fresh, and, by offering some soul, it makes its competitors look somewhat sanitised and bland by comparison.
Thanks to Apple, IKEA, Dyson and others, we are all a bit more design literate and have a growing sensibility to how things look and feel. Leon has recognised that fact and taken the many opportunities to add richness and depth through design.
The varied and vibrant decor does it in broad strokes – the language chosen does it in finer point. "Porridge of the Gods" and "Toast and Blossom Honey" successfully convey the brand's passion for food and get the mouth watering. As the chain continues to expand, let's hope that Leon continues to keep its design as fresh as its food.
---
TIMELINE
2003: Henry Dimbleby, John Vincent and Allegra McEvedy founded Leon.
2004: The company opened its first restaurant in Carnaby Street.
2005: Leon won Best Newcomer in the UK in The Observer Food Monthly Food Awards.
2008: The first Leon cook book was published; the company won the RSPCA Good Business Award.
2009: McEvedy left to focus on TV work, but retained an investment.
2011: Leon served 50,000 people a week and turned over £11m.
2012: The chain opened its first airport branch at Heathrow in partnership with catering company HMS Host. It also issued the 'Leon Bond' to raise £1.5m.
2013: Leon launched an online shop selling branded items used in its restaurants.