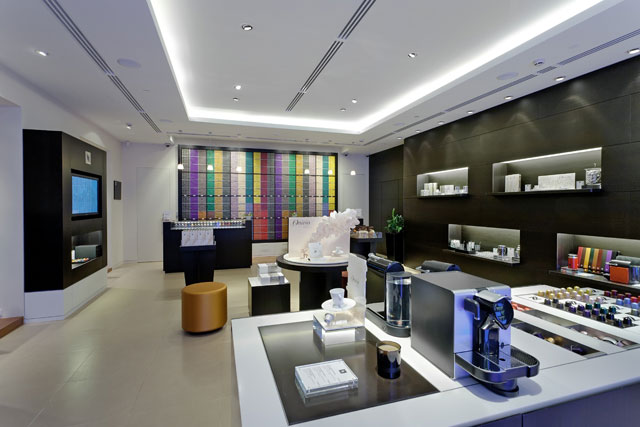 The inexorable rise of
the premium-coffee market in the past 10 years has created such a demand for espressos, skinny lattes and flat whites that a coffee shop has sprung up on almost every street corner. Consumers looking to sate their caffeine habit at home have also helped to create a new sector: the capsule coffee market.
Launched in 1986, Nespresso is a Nestlé brand that has created a system claimed to let coffee-drinkers replicate the results of trained barristas in their own homes. Its aluminium capsules filled with coffee are used with associated coffee machines to produce an espresso or "lungo" beverage. Sixteen varieties of coffee are available, as well as seasonal special offers.
The system was originally developed by Nestlé employee Eric Favre in the 1970s for the business market. It initially failed to take off, but a mid-80s relaunch aimed at office workers in Switzerland, Japan and Italy was more successful, and the business market remains important to the brand.
Nespresso then looked to take the system to consumers, signing a deal with household-appliance manufacturer Turmix to produce its coffee machines. Subsequently, it signed up other manufacturers including Philips, Krups, Magimix and De'Longhi to produce elegant, electric machines.
The entire Nespresso system is protected by about 1,700 patents, but the success of the brand has been as much about marketing as technology or process. With the 1989 consumer launch, Nespresso introduced the concept of Le Club. This CRM programme sought to sell consumers an aspirational lifestyle, as much as it did great-tasting coffee. Members were offered benefits such as the ability to purchase capsules directly, special offers and an accessory range including branded cups, tableware and candles.
All this served to create an upmarket image that reinforced Nespresso's premium status and justified its pricing. The success of the approach has enabled the brand to expand globally, and it is now present in about 60 countries.
Since 1999, Nestlé has been opening Nespresso boutiques, which showcase the system and act as a physical expression of the brand. There are now more than 300 of them around the world.
Another key brand asset (until this year) has been actor George Clooney, who was chosen to star in the brand's aspirational "Nespresso. What else?" ads. However, that question has of late been answered by generic, cheaper coffee capsules that are compatible with Nespresso machines. With all Nespresso capsule sales made directly through the brand, the alternatives can also be easier to buy via retailers.
Nespresso has responded by re-emphasising the quality of its coffee, including its "limited-edition" Grand Cru selections. It has also trumpeted success in recycling, with more than 75% of its used aluminium capsules returned by customers. Despite growing competition, it reported double-digit growth in 2012.
---
BRAND LESSON
By James Joice, Client Director, JKR
The secret to the Nespresso model is that it draws comparison with coffee from a coffee shop, not instant. It's a lesson in the extent to which reshaping your comparative set can transform your fortunes.
Liberated from a category defined by jars and constrained by price comparison at the supermarket shelf, it has been able to redefine how we consume coffee at home. The decision to restrict availability was a masterstroke. Buying online at Le Club or a boutique (if you can find one) allows us to build a new set of associations with coffee and creates a very helpful distance from the price we normally pay for it.
More than any of its competitors, Nespresso has recognised the importance of the machine. It appreciates that its consumers care (a lot) about how their kitchen counters look. In partnership with a select group of manufacturers, Nespresso has created appliances that can hold their own next to a KitchenAid mixer or a Dualit toaster.
The capsules make the most of the aluminium substrate and have a jewel-like quality that makes each feel precious. The unique shape is immediately identifiable and carries far more charisma than the discs or pods offered by others. Beyond this, the brand has borrowed brilliantly from the world of luxury goods, from its glass collection boxes, to the in-store experience.
Nespresso shows us that truly great design doesn't simply do something different within a category, it creates a new one altogether.
---
TIMELINE
1986: Nespresso SA, a Nestle Group company, was founded, initially selling four coffee varieties and two machine models.
1989: The 'system' was introduced to Swiss consumers.
1991: First major expansion targeted France and the US.
1993: The first aviation Nespresso machine was installed by Swissair.
1996: Website promoted Nespresso's coffee expertise and products.
1997: Machine production partnerships were forged with Jura, Magimix and KitchenAid.
1998: Direct online ordering was introduced with free shipping for orders over a minimum amount.
1999: Fresh corporate identity refined the stylised 'N' within a square. The first Nespresso boutique was opened in Paris.
2001: Brand launched the first "limited-edition" Grand Cru.
2006: Company exceeded CHF1bn (£0.7bn) in revenue for the first time, while George Clooney became its global brand ambassador.
2010: The 200th boutique was opened in Shanghai, China.
2012: Nespresso achieved its 75% capsule-recycling objective one year ahead of plan.