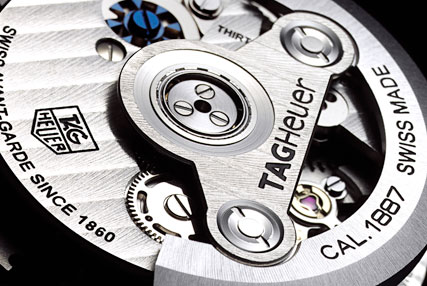 In 1860, Edouard Heuer opened his first workshop in St Imier, Switzerland. At that time, the company's work focused on pocket watches. By 1876, Heuer had opened an English subsidiary, and in 1910, the company expanded to the US. The brand continued to grow as it produced time-pieces that were innovative and desirable.
The company motto at TAG Heuer is 'Swiss Avant-Garde Since 1860' and it attempts to reflect this bold approach in every area of its operation. Its expert watchmakers must adhere to strict quality standards. Indeed, the company's 'TAG Heuer-designed quality testing procedures' have a patent from the Swiss Federal Institute for Intellectual Property.
The brand's success relies on it combining manual craftsmanship with cutting-edge technology, with the process honed over several generations. TAG Heuer was one of the first brands in its sector to establish a watchmaking school and it places great emphasis on its investment in training. The company aims to ensure high quality through its semi-automated production line, which it describes as 'revolutionary'.
The brand's research and development arm, where workers attempt to 'reinvent the wheel', is another key strand of its business.
It has regularly managed to play a lead role in shaping the face of watchmaking.
In 1887, Heuer registered its first patent, the oscillating pinion. In 1895, it came up with one of the first water-resistant cases for pocket-watches, and as early as 1912, it began making wristwatches for women.
More recent examples of its innovation include its Monaco V4 watch, which it produced in 2009 and uses a belt-driven mechanical transmission.
TAG Heuer also has a tradition of using high-profile celebrities to promote its watches. One of its earliest ambassadors was the actor Steve McQueen. He endorsed the brand in the film Le Mans, in which the brand name was emblazoned on his character's car and jumpsuit, much as in modern-day Formula One.
Today, Hollywood stars Leonardo DiCaprio and Cameron Diaz endorse the brand. Its long-standing association with Formula One, which has included deals with former champions Juan Manuel Fangio and Alain Prost, is also still going strong; British Formula One drivers Lewis Hamilton and Jenson Button are among its brand ambassadors. Russian tennis star Maria Sharapova is another global luminary paid to sport the company's products.
TAG Heuer remains one of the most prestigious watch companies in the world. It has operations in more than 50 countries, underlining its status as a truly global brand.
---
BRAND LESSON
By Andy Knowles, chairman, JKR
The tale of how Techniques d'Avant Garde (TAG) the investment vehicle of Formula One fanatic Mansour Ojjeh, resurrected Heuer, the distressed Swiss watch brand, is a rare demonstration of the benefits of private equity.
Whether by luck or design, the brand trips off the tongue better as TAG Heuer. Unlike many corporate amalgams, the names work in sweet harmony. So do the logos - the constrained symmetry of Heuer is relieved by the racy TAG monogram above.
Although the branding benefits from hybrid vigour, it's the appliance of marketing, not science, that catapulted it onto the prestige market. Working to a strategy initially forged by the creative-commercial partnership of BBH with Ron Dennis of TAG McLaren, the long tail of undistinguished timepieces was ruthlessly pruned to define a coherent look.
Featuring heavy bezels and metal bracelets, a chunky, masculine feel was amplified by punchy packaging and evocative advertising to echo Heuer's long association with motorsport and attract a younger, style-conscious audience.
Using consistent design, unerring quality and higher prices, TAG Heuer restored its fortunes by focusing on its core, and perhaps taught the Swiss watch industry to respect the power of branding, while earning itself a $750m exit to luxury good owner LVMH in 1999.
From rags to riches in 15 years: it's a story worth repeating.
---
TIMELINE
1860: Edouard Heuer, the founder of Heuer, established his first workshop in St Imier, Switzerland.
1887: The company patented the 'oscillating pinion' for use in mechanical stopwatches.
1892: Edouard Heuer died on 30 April at the age of 52.
1895: Heuer secured the patent for one of the first water-resistant cases for pocket-watches.
1910: The distribution of Heuer products in the US was facilitated by Henri Freund & Bros.
1912: Heuer began producing women's wristwatches.
1930: The company started to make chronograph wristwatches for pilots.
1970: Actor Steve McQueen became the company's official worldwide ambassador.
1973: The company introduced the world's first quartz, pocket-sized sports timer, the Microsplit 820.
1985: TAG acquired Heuer.
1992: TAG Heuer became the official time keeper for Formula One.
1999: LVMH bought the brand.