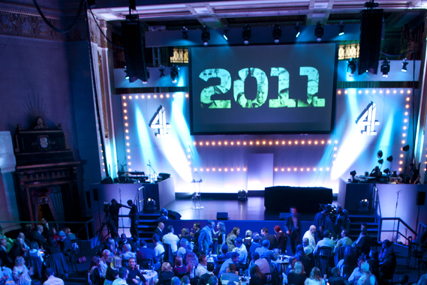 Speaking at Channel 4's 2011 launch for agencies and advertisers last night, Abraham, who took up his role on 4 May, pledged to continue what he called the broadcaster's "great tradition of innovation and creativity as a media partner".
He said Channel 4 would eclipse the £1bn mark by benefiting from its stake in YouView, and the addition of the UKTV sales contract offer, which would offer advertisers a "whole new suite of opportunities".
Channel 4's 2010 revenue will be published in its report next summer.
During 2009, the broadcaster's family of channels generated £706.7m of TV ad revenue, which was down 10.5% year on year from £789.7m in 2008.

The 10-year UKTV ad sales contract is estimated to be worth more than £1bn, which would suggest it will represent more than £100m of ad revenue each year.

In September, Channel 4 Sales restructured its 175-strong sales force into multi-disciplinary agency teams, following a comprehensive review by Boston Consulting Group, led by sales director Andy Barnes.

Channel 4 is expected to come under pressure from media agencies during the autumn trading season due to the loss of 'Big Brother', which still drew significant audiences for the broadcaster, despite being below its peak.

Abraham presented the loss of 'Big Brother' as an opportunity for the broadcaster.
He said: "With the emotional burial of 'Big Brother', we can at last stop talking about creative renewal and deliver a new-look schedule. Viewers expect us to try new things and that's what we're about to do."

Channel 4 is a partner in YouView, the joint consortium aiming to offer free-to-air, internet-connected TV by the end of the first half of next year.
Abraham said YouView would "enable your mum to have a simple, seamless media experience in her living room".

Channel 4 also announced plans to introduce its first brand campaign in four years. The 'Twist' campaign will allow viewers to make ads using pre-recorded words spoken by Channel 4 presenters and actors.

Prior to joining Discovery in 2001, Abraham worked at the ad agency St Lukes which he co-founded in the 1990s – a fact Abraham reminded the ad executives of last night.

Abraham said: "As far as the old folks here may remember, I worked in advertising for many years, so I'm keenly aware of how we get to pay for all the great content we get to commission."