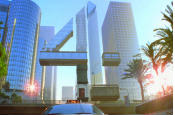 Channel 4 had initially shared ownership of The Hits with Emap, having bought 50% of its Box TV division, which comprises seven music channels, including Smash Hits, Kerrang! and Kiss, last July for £28m.
Emap's share of the channel is now held by Bauer Consumer Media, following its acquisition of Emap's Consumer Media operation for £714.3m this month.
The broadcaster already uses the 4Music brand for a strand of music programming on its youth channel, E4. A dedicated channel will be the latest brand extension from the broadcaster; others include More4, Film4 and broadband services 4oD and 4Docs.
The Hits is launching 4Music Sundays, a season of branded programmes, ahead of the formal renaming of the channel, which is expected before the end of the year, when its airtime sales contract with Sky Media expires and Channel 4 can bring it in-house.
A Channel 4 spokeswoman said it was looking at ways to develop its relationship with Bauer.
The Hits reaches 9.5m adults each month, a fifth of the multi-channel TV audience, according to BARB.