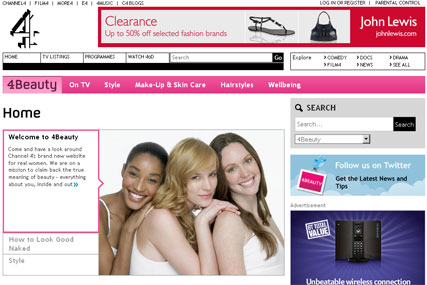 The new website is the third in Channel 4's portfolio of lifestyle sites, after 4Food and 4Homes.

The website, channel4.com/4beauty, provides content aimed at getting women to celebrate their bodies and feel confident about their looks.

It also signifies a push to extend Channel 4's online income beyond display advertising.

To bolster revenues, the website offers product review finder and 'Style Me' tools, which allows users to research, rate, review and buy products they feel are right for them.
The 'Style Me' tool was created in conjunction with head stylist Jane Galpin, from the C4 programmes 'How to Look Good Naked' and '10 Years Younger', and enables women to find out which of eight key body shapes they are.
Brands that can be purchased on the 4Beauty site include Chanel, Dove and L'Oreal. The service is managed via an affiliate deal with online retailer Shop Style. Channel 4 get a slice of sales revenue generated from online stores including Asos.com and John Lewis.
4Beauty, according to Channel 4, is a crucial cog in its strategy of consolidating and extending its relationship with a female audience of between 25 and 45 years old.
According to the broadcaster, further commercial partnerships, including smartphone apps and premium content, will follow across the second half of 2010 and 2011, including relaunches of 4Food and 4Homes later this year.