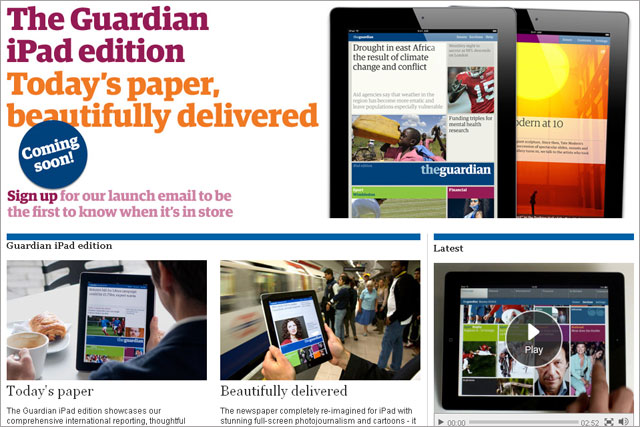 The app does not yet have a launch date but is expected to be released this month and will be sponsored by Channel 4 for six months. The deal was brokered by OMD.
It will be priced at £9.99 per month, but will be free for three months after launch, then free for the first week to new users. All six and seven-day print subscribers will have free access to the app.
In a Guardian video previewing the app, Guardian editor Alan Rusbridger said the newspaper's journalists will "not be scrambling to update it every minute or hour, we'll do that on the browser" which will be the place for readers to view live blogging. The app will be a "different type of read, more reflective", he said.
Mark Porter, design consultant on the Guardian's iPad project, said the paper had been grappling with how to translate the paper's "hierarchy of information" onto the app in an appropriate way.
Porter said the app would feature advertising, which will be clearly separate from news stories resembling the print edition but more interactive.
Follow @SaraKimberley on Twitter