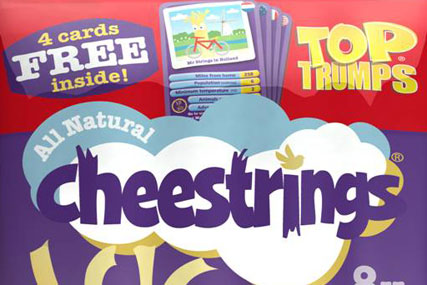 Cheestrings owner, Kerry Foods, has partnered with sales promotion agency The Marketing Store to create the cards, which will be given away free in packs of the cheese snack.
The campaign will run for 12 weeks. Promotional packs of Cheestrings will have either four, six or eight trump cards within them, depending on the pack size.
The cards, based on the game Top Trumps, are part of a larger, integrated campaign known as "Mr Strings' World Tour". Each card features a different part of the Mr Strings character's tour of 30 countries around the world.
A 3D card will also be included with each pack, which brings the character to life when held in front of a webcam.
Faye Ferriday, senior account director at The Marketing Store, said: "Top Trumps is an iconic card game that encourages fact-sharing and game play among kids.
"The creative is fun, quirky, and maintains brand affinity with its recognizable purple and yellow Cheestrings colours. We are really excited about the Top Trumps promotion and engaging kids in Mr Strings' World Tour."
Ciara O'Connor, brand manager at Kerry Foods, said: "Now that kids are back to school, we wanted to provide them with a reason to get excited about the contents of their lunchbox, and the Top Trumps cards will also encourage sociable playtime activity for kids while they learn about Mr Strings' adventures on his World Tour."