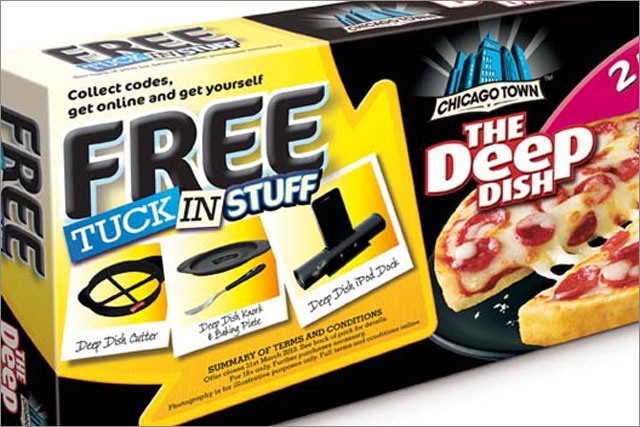 Created by Life Agency, the campaign, called 'Free Tuck In Stuff', will appear across packs of Chicago Town's Deep Dish over the next six months.
The promotion, advertised as a loyalty scheme, encourages consumers to collect branded Chicago Town products by entering the codes from promotional packs into a dedicated website. The products on offer include tea towels, freezer tumblers, pizza cutters and silicon oven gloves.
The on-pack promotion is supported by a press campaign in national newspapers and magazines.
Richard Cooper, senior brand manager, Chicago Town Deep Dish, said: "We're really excited to be the first in our category to deliver a fully integrated loyalty scheme.
"We understand that our customers are looking for more value from brands – following the success of last year's 'Free Knork' promotion which saw 40,000 consumers apply for a free knork – and this is our way of giving them more of what they want."
Rival frozen pizza brand Goodfellas, owned by Northern Foods, ditched its "pizza fairy" character in April this year, claiming that the advertising for the range had lost its way.