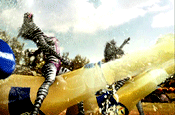 The ad, by French agency FFL Paris, was launched in the UK last month, after a successful run in France.

But Kidscape director Claude Knights said the ad's cartoon style would appeal to children, despite the fact it is scheduled for exposure after the watershed.

She said: "Orangina is a drink that is associated with children and young people, and the sexual content is inappropriate for this group.

"This is almost like a Disney cartoon in style, and is likely to appeal to children."

She added that the post-watershed scheduling was ineffective because the ad was easily available on the internet.

The Advertising Standards Authority today confirmed that it has received more than 170 complaints about the sexual nature of the ad.