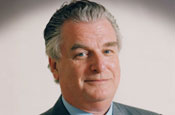 Post-tax profit attributable to ordinary shareholders rose 9%, compared with the first half of 2008, to £5.8m at the PR, advertising and sports marketing group, which owns Bell Pottinger and VCCP among others.

Bob Willott, of marketing services financial research company Fintellect, who compiled the ranking, said Chime was the only company to grow both revenues and profits. Chime's revenues rose 7.2% to £58.4m.

Employee incentive company Motivcom took second place in the profits ranking with 3% growth to £1m, but the next best performer, M&C Saatchi, suffered a 25% drop to £3.6m.

Bottom place was taken by Cello, the research, data and direct marketing group, where profits dropped 379% from £1.5m in 2008 to a £4.2m loss in 2009.

Aegis was the next worst performer, with profits down 107% from £30m to a £2.1m loss.

Willott said: "The Aegis performance was particularly disappointing as the company actually increased its revenues in the period, albeit by only 3.5%."
WPP, which accounts for a huge share of the profits made by UK-listed marketing companies, is placed in the middle due to being hit by a 48% drop from £208.2m to £108.4m.

The total of the 11 companies' profits fell 55% despite a 20% increase in revenues, which was mostly accounted for by 25% revenue growth at WPP to £3.96bn.
Source: Fintellect