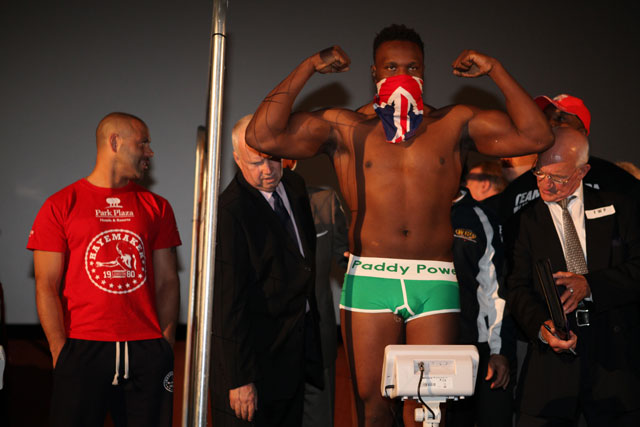 Chsiora donned the Y-fronts at the weigh-in ahead of his fight against David Haye this Saturday at Upton Park.
Chisora stepped on the scales in his trademark Union Jack, tied around the lower half of his face, and a pair of green and white Y-fronts bearing the name "Paddy Power".
Paddy Power's pants were last seen during Euro 2012, when Danish Striker Nicklas Bendtner wore the special underwear during Denmark's match against Portugal.
Bendtner was fined £80,000 for participating in the stunt and banned from one competitive international fixture.
The stunt was a breach of Denmark FA's exclusive deal with rival betting firm Ladbrokes, as well as Uefa's commercial rules. Paddy Power has agreed to pay the fine.
The controversial advertiser is known for its sporting stunts and banned TV advertising, the most recent of which featured transgendered-looking women among a crowd of racing fans at Cheltenham Ladies' Day.
Follow Loulla-Mae Eleftheriou-Smith on Twitter @loullamae_es