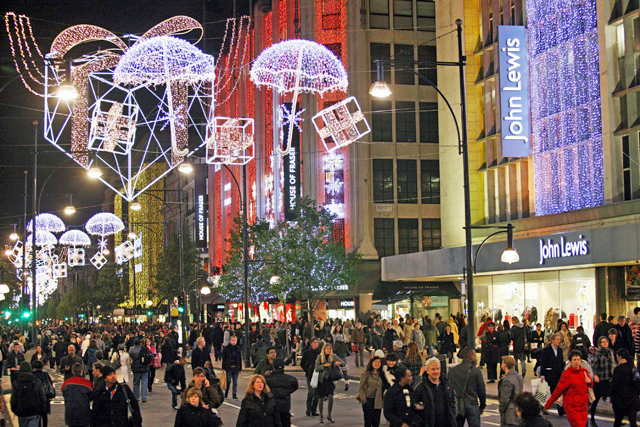 Footfall for the week ending Sunday 4 December was up 4.6% year on year, but that figure was skewed by people bringing their Christmas shopping forward to take advantage of the public sector strike.
When up to 2 million public sector workers went on strike on Wednesday 30 November, there was a 36% year-on-year increase in footfall on the high street, according to figures from Experian Footfall.

Consequently weekend footfall fell 5.5%, compared to the same period last year, and it has remained flat this week despite a slew of discounting by the major retailers.

The biggest drop this week was on Monday, which Experian Hitwise said could be due to the 'Cyber Monday' phenomenon as consumers rush to order their shopping online while leaving enough time for delivery before Christmas.

As the high street does what it can to tempt shoppers to spend, however, retail analysts are warning brands need to be careful with the extent of discounting they engage in to avoid devaluing brand equity and the traditional post-Christmas Day sales period.

Independent retail analyst Nick Bubb said: "There is a huge amount of discounting going on, which devalues the idea of paying full price. There was a time when no-one went on sale before Christmas.

"It devalues the notion of sales after Christmas when everyone is on holiday and does go shopping. It's not just this year, it has been increasing for some time with the pressure on consumers' incomes and job uncertainty – it's particularly prevalent this year."

Debenhams is currently running a 30% off discount on thousands of gifts and is due to launch a Boxing Day sale.

It is understood the Boxing Day sale could involve discounts of up to 70%. Rival House of Fraser is attempting to keep pace by discounting certain ranges and recently ran a two-day brand event on 1 and 2 December.

House of Fraser's sale will launch online on Christmas Eve and in-store on Boxing Day with discounts of up to 50%, which will in turn force John Lewis to match prices as part of its Never Knowingly Undersold pledge.

Verdict retail analyst Cliona Lynch believes the culture of discounting within the retail industry will prove unsustainable.

Lynch said: "I think longer term it is unsustainable but going into January it is traditionally a time of sales so it will be difficult for retailers to drop their discounting in January when people are usually hard pressed after splurging at Christmas."

Even retailers that have traditionally shied away from heavy discounting are being forced to keep pace, according to Bubb.

He said: "Marks & Spencer (M&S) is doing a lot of quiet discounting. Next is maybe the exception, it has these huge crowds when it does go on sale and it's a novelty".

M&S is currently running a 25% discount on its menswear products. Although a spokesman said the brand does not reveal future sales plans, it traditionally launches an online sale on Christmas Eve and in stores on Boxing Day.

It is believed Next will once again launch its sale on Boxing Day.

Bubb labelled Arcadia boss Sir Philip Green as "one of the main culprits who has made Christmas so promotional, every weekend BHS has 20% to 50% off".

Retailers will do well this December but be damaged by the constant promotions running at the moment, according to Shore Capital head of research Clive Black.

"October, November, January and February might be pretty challenging but December will be okay in total," said Black. "Promotions are a double edged sword; in difficult times if not managed correctly they can damage the brand equity of retail brands and consumer products."

"We expect promotions to be a necessary evil but they do have to be carefully managed. Asda has probably over-promoted and damaged its brand equity so it is coming back onto a price proposition a bit more."
Follow Matthew Chapman at @mattchapmanuk