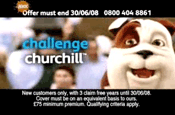 The WCRS campaign promoted the company's home insurance renewal service.

In the ad the dog replies to a male voiceover which asks: "Can I really make a claim without filling in any forms?"

The dog responds with his well-known catchphrase: "Oh yes!"

A complaint was lodged from a viewer who was sent a form to complete after making an insurance claim. The ad was challenged as being misleading.

Churchill said its claims handlers would try to deal with customers by telephone but admitted that a fifth of cases needed passing onto the Claims Validation Unit, which requires a declaration form or written statement.

The ASA said it was concerned Churchill had not provided Clearcast with full details at the clearance stage, adding: "We welcomed Churchill's admission of error and their assurance to remove the claim from future advertising and commended them on their ready cooperation in this respect."

The insurer was reminded of its duty to provide all relevant information to clearance centres when seeking approval for its broadcast advertisements.