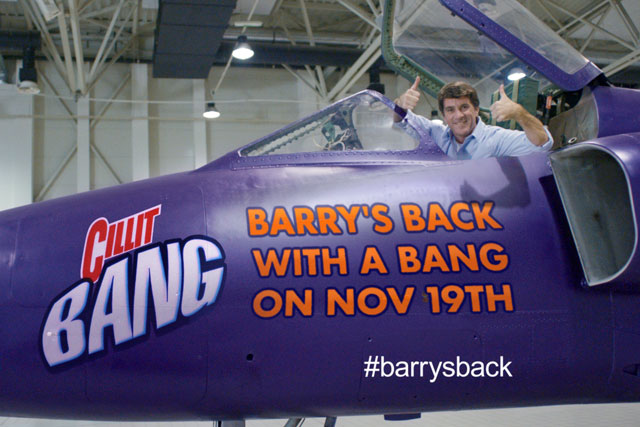 The TV campaign, created by Havas Worldwide, breaks tonight during ITV's 'Coronation Street'. The campaign will run into the new year, driving the brand's three main products – Limescale and Shine, Grease and Sparkle and Bleach and Hygiene.
Teaser ads have been running over the past four days, playing as idents for programmes 'Loose Women', 'The X Factor' and 'This Morning'. The idents ask, "Who's back?" at the start of a programme, and answer with the end ident stating, "Barry's back!"
RB launched Cillit Bang in 2004, claiming that the product marked the creation of a new power-cleaning segment in the market, and used Barry Scott in its TV activity until 2008.
In February, however, Scott was used by RB for the launch of Cillit Bang product, All in 1 Dish & Surface cleaner, which was sold exclusively through a direct-to-consumer platform on Facebook. The digital push saw Scott joined by his "twin" brother, Harry Scott.
Jérôme Lemaire, RB UK marketing director, said: "Like Cillit Bang, Barry cuts through to the heart of the matter. His directness truly reflects the Cillit Bang 'Turbo Power' message, which is about 'removing stains in seconds'.
"Cillit Bang has been a phenomenon – firstly creating a completely new niche in the cleaning sector and also in the way in which the brand, along with Barry, captured the imagination of the public. You hear the words Cillit Bang and you think of a cleaner that does what is says it will do."
Follow @loullamae_es