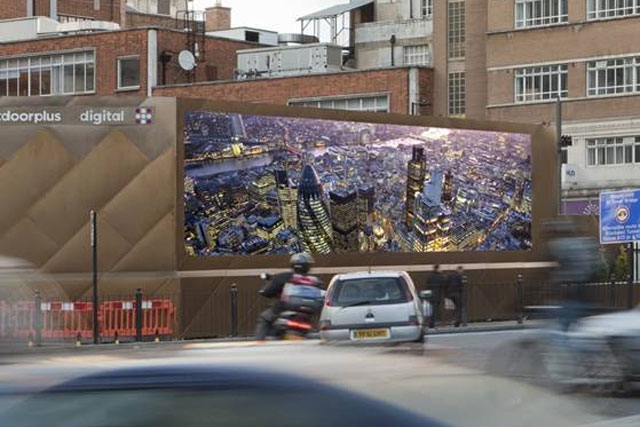 Outdoor Plus said the City of London Gateway will give advertisers access to 649,000 vehicle impacts and 75,00 pedestrian impacts per fortnight.
The structure has an ABC1 audience of 59%, split almost 50/50 between males and females and similar to the audience of Outdoor Plus's Spire on Western Avenue, which launched in January.
This new high resolution digital screen, which goes live today, will target traffic near Fenchurch Street and Leadenhall Street and the surrounding roads, reaching both a local commuting audience as well as City of London workers.
Paramount's ad for the film 'The Dictator' was booked by Kinetic and MEC, while the ad for the Kenneth Green Associates brand Mont Blanc was booked through Posterscope and MPG.
Prior to the live launch, Outdoor Plus has been using the site to showcase photographs taken around the City of London by award–wining aerial photographer Jason Hawkes.
Hawkes has specialised in aerial photography since 1991 and has worked with global brands including Nike, Coca-Cola and Nokia.
Grant Branfoot, sales director for Outdoor Plus, said: "With two major digital site launches in 2012 already, our intentions in this medium are clear.
"Advertisers looking to reach a broad section of high income and successful consumers around the City of London and to exploit the immediacy, tactical creative possibilities and accountability of digital need look no further."
Follow Nick Batten on Twitter @NickBatten2