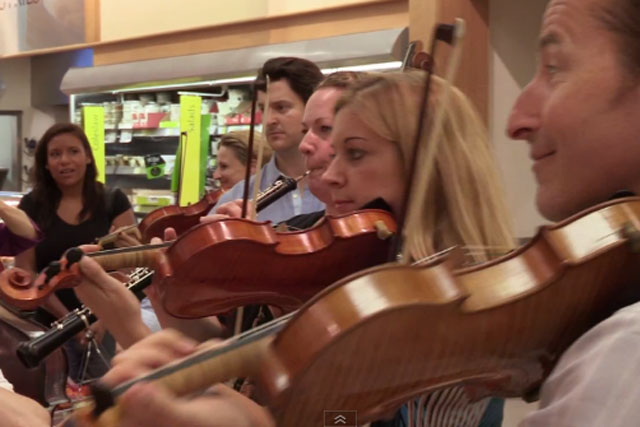 Classic FM began broadcasting at 6am on 7 September 1992. To celebrate, the station set 18 musicians, one conductor and eight singers the task of surprising and entertaining shoppers at a London branch of Morrison's, giving them a performance of the first ever piece played on Classic FM – Handel's 'Zadok the Priest'.
The idea was conceived by the Classic FM brand team and was directed by Mick Rudman from Therapy Films.
In addition to this, Classic FM is running special birthday programming from 6am today, as well as a series of live concerts around the country with its partner orchestras.
Nick Bailey, Classic FM's debut presenter, announced the station's historic birthday and introduced the first two pieces of music played 20-years ago – Handel's coronation anthem and Weber's 'Introduction to the Dance'.
The birthday celebrations will continue with a series of live concerts across the UK with Classic FM's partner orchestras, to be recorded for broadcast.
The Royal Liverpool Philharmonic Orchestra, Classic FM's Orchestra in the North West of England, will perform a birthday concert tonight (7 September).
Celebrations culminate in September in a Classic FM Live concert on Monday 24 September at the Royal Albert Hall, hosted by John Suchet and Margherita Taylor.
Darren Henley, managing director of Classic FM, said: "With the flick of a switch back in September 1992, Classic FM transformed the way the UK listened to classical music.
"Twenty years on, we're the most successful classical music station in the world – and our belief that classical music can be part of everyone's lives remains undiminished."