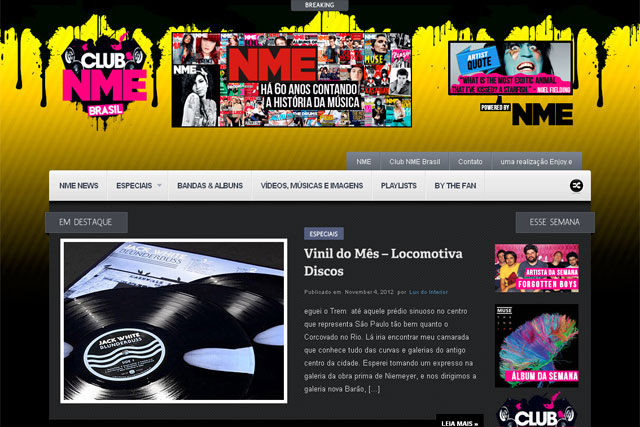 It is launching a dedicated website, www.clubnme.com.br, in partnership with Enjoy Experiences.
The website will deliver the latest news and reviews of best acts from Sao Paulo and the rest of South America, along with the latest international music news direct from NME.com.

Club NME will be holding five live events in Sao Paulo throughout 2013. Music enthusiasts are able to take part in selecting the artists to perform at the upcoming live events via the website.
Mike Williams, editor of NME, said: "Since the first Club NME show way back in 2004, we've been championing and showcasing some of the best live bands in the world and nurturing the most amazing emerging talent.
"It's great to be able to extend this to Sao Paulo, a city known for its fervent support of live music and one of the greatest places to party on the planet. NME's global reach continues to grow by the day, and Club NME Brazil is another example of why NME remains the most famous and iconic music brand around."
Bianca Freitas, founder of Enjoy Experiences, said: "NME is one of the most important music news sources worldwide. NME platforms are the first stop for fans, music industry professionals and music journalists alike. Club NME is one of the most respected events in the music calendar for new bands and that's why we are bringing it to Brazil."
The launch of Club NME Sao Paulo follows closely on the introduction of NME India – where website and print editions of NME devoted to the Indian music scene are being developed.
In May, NME promoted Mike Williams from deputy editor to be its new editor, replacing Krissi Murrison.
Follow @nickbatten2