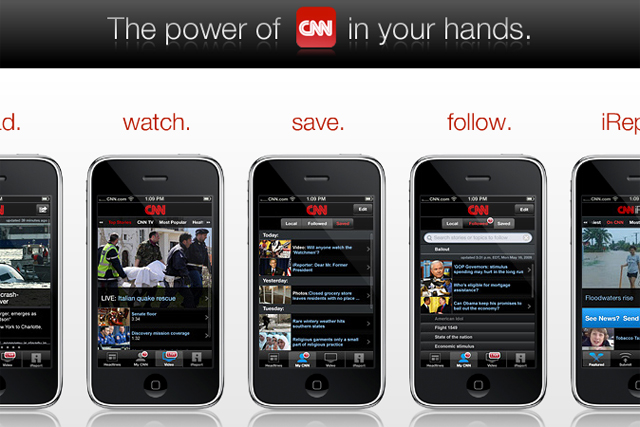 The app has been designed to encourage user interactivity. Comments can be made easily on a strip running alongside the content and stories can be shared via email, Facebook and Twitter.
The iPhone app will also be updated to include video and will be available for free to supplement the launch and television apps are in development by production houses.
Ben Cusack, marketing director for digital agency MIG, said the effectiveness of news apps will pave the way for new programmes.
He said: "News broadcasters have a constant stream of content and have all the tools to pave the away in the app space. Add the social and conversation features these apps are going to be highly addictive, irrespective of the programme or topic."
KC Estenson, senior vice president and general manager of CNN.com, said: "High quality, world-class journalism is what CNN does best, whether live breaking news, hard-hitting interviews or in-depth investigations, and our iPad app presents that content to the world in a wholly new way.
"This app harnesses the best of what the iPad offers by leveraging striking photos and videos, elegant, multi-touch navigation and the ability to share content with your friends via social media."
Users of the CNN apps will access a variety of copy, stills and video, and can move between the US and international editions, both of which will serve live video of breaking news. There are also hourly audio news updates.
Louis Gump, vice president of CNN Mobile said: "The CNN App was built from the ground up with our consumers in mind, and we are proud of the new CNN experience we've created for the device."
Content can be viewed in three views:
Broadsheet, the default view, presents up to 350 of the latest news stories in a grid-format featuring images and headlines.
List view features a running list of headlines by topic and by category.
Slide show allows users to scroll or swipe through a visual presentation of the day's top headlines.
CNN rival CNBC launched its own app last month.