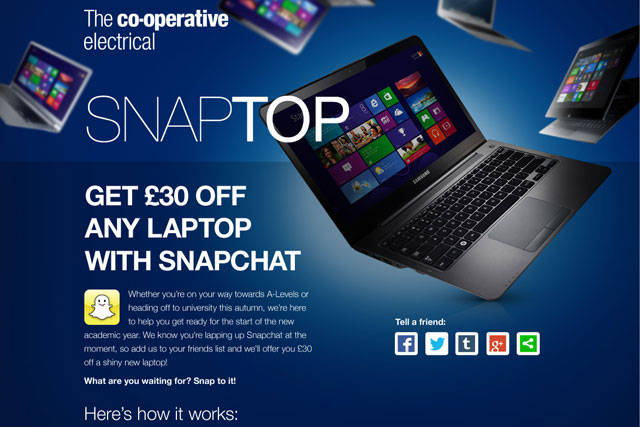 Promotional activity will involve students being sent a code via Snapchat offering £30 off laptops before the code "self-destructs" after between five to ten seconds.
Students will be encouraged to add The Co-operative Electrical as a friend on Snapchat in order to take part in the campaign, which was created by Holler and runs until 11 October as the retailer targets students as they prepare for the start of term.
The Co-op has set up a microsite to promote the campaign, which will direct people to the Snapchat app.
Gail Lyon, social media lead for the Co-operative Group, said: "It's the first social campaign that The Co-operative Electrical has done, and the business is the first big retailer to market using Snapchat.
"Following this Snaptop campaign, we will be following up with two further social media campaigns, both with the intention of increasing awareness and consideration."
Other UK brands to experiment with the Snapchat platform include Lynx, which included the leaking details of a "secret" Lynx launch party to fans.
Snapchat activity included behind-the-scenes pictures of Sky Sports News presenter Charlie Webster on a photo shoot, which were sent to Lynx fans.