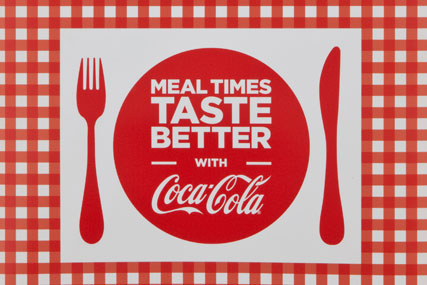 The recipe books will be available exclusively at Harvey Nichols stores throughout the UK and in Dublin, as well as online. They will be sold as part of a hamper that contains dry ingredients used in the recipe book. It will retail for £45.
The book, entitled When You Entertain, will feature recipes from four food celebrities: Tom Aikens, Michelin star chef; Liz McClarnon Celebrity Masterchef 2008; Alex James, organic farmer and former Blur member; and Julia Parsons, food writer.
The book is edited by Tiffany Darke, editor of the Sunday Times Style magazine, and aims to highlight Coca-Cola's association with food and family occasions over the past 100 years.
The four writers have each picked 10 recipes that evoke memories of family mealtimes and occasions for them. Some but not all of the recipes have Coke integrated into the ingredients, such as James' Coca-Cola chicken salad with garden potatoes, and Aitkens' Coca-Cola ginger cake.
The book is being launched as part of a wider volume-driving campaign for Coca-Cola that has been running since April this year on TV, radio, digital and outdoor.
Olivia Hendrick, senior brand manager at Coca-Cola, said: "When you Entertain offers ideas from food-linked personalities for entertaining family or friends, while celebrating a long-standing heritage and association of Coca-Cola enjoyed at meal times.
"This activity compliments our successful occasion-led advertising campaign, which includes a partnership with ITV, outdoor, radio and shopper marketing program."