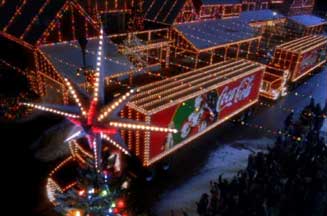 The TV element of the Christmas campaign will kick off on Saturday (14 November), when its 'Holidays are coming' ad breaks. The spot will run for a month, before being replaced by a 'Gift of giving' ad, which will air until Christmas Day.
Both phases of the campaign will be supported by outdoor ads, adapted from the works of Swedish artist Mikael Erikkson. Mother is behind both the outdoor and TV campaigns.
Coca-Cola will run a 'Greatest Gift' on-pack promotion across its range of 500ml and two-litre bottles of Coca-Cola, Diet Coke and Coke Zero, as well as can multipacks.
The brand's loyalty website, Coke Zone, which is managed by Carlson Marketing, will offer daily prize draws and run a radio partnership with Capital FM in December.
The busking pitches, managed by CBS Outdoor, have previously been sponsored by brands including Carling and Capital 95.8.