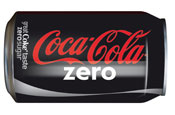 The new identity, which rolls out in the UK in March, will feature a simplified can design and the authentic 'Coca-Cola' red for the first time. It will incorporate the distinctive white dynamic ribbon and iconic scripted Coca-Cola logo, which was created in 1886.
The refreshed design, created by Attik and implemented in the UK by Bullet Proof for Coca-Cola and Coke Zero and Epoch for Diet Coke, will also be used across all marketing communications, from point-of-sale materials to vending machines.
Cathryn Sleight, marketing director at Coca-Cola GB, said: 'This visual identity retains the iconic visual elements of the Coca-Cola brand but presented in a simpler, bolder and more modern way for our consumers.'
The new-look packaging will also include the 'Recycle Now' mark. According to Coca-Cola, the majority of its packaging is 100% recyclable; its aluminium cans are made from 50% recycled aluminium and glass bottles made from 30% recycled glass.
The 'Recycle Now' logo will also be rolled out across the entire Coca-Cola brand portfolio, including Minute Maid and Sprite, throughout 2008.
Coca-Cola GB has worked with WRAP (Waste & Resources Action Programme) to ensure that communications about the recyclability of its packaging is clear and consistent in a bid to encourage consumers to recycle its packaging.