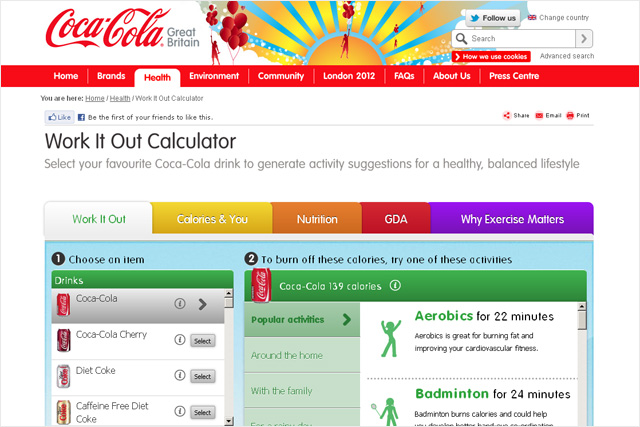 The calculator marks the brand's latest example of trying to deflect criticism that some of its products are too sugary.
The calculator lets consumers select one of Coke's soft-drink brands or a specific calorie count and suggests activities that consumers can undertake to burn off the calories.
For example, a can of Coca-Cola Cherry contains 149 calories, which can be burned off in a range of ways according to the calculator, from 34 minutes of pilates to playing badminton for 26 minutes or ice-skating for 30 minutes.
Coke has developed the tool with Dr Greg Whyte, a former Olympian athlete, and carried out a survey of 1,000 adults as part of the initiative to highlight the UK's attitude to keeping fit.
The research claimed that "despite good intentions 34% of Brits admit they don't have the time to be as active as they would like, with 32% citing motivation and 21% citing money as key barriers".
The tool offers imaginative ways for consumers to lead a healthy and active lifestyle that fits in with their daily routine, and includes sections explaining what calories are and how they affect people's weight, a guide to nutrition and energy balance, information on Guideline Daily Amounts (GDAs) and information on the importance of exercise.
The calculator, which is housed on www.coca-cola.co.uk, is part of Coke's "health" section, which includes a "caffeine counter" that helps consumers to monitor their daily intake of caffeine from food and drink products.
Coca-Cola's promotion of healthy lifestyles includes its partnership with StreetGames, the UK charity that helps to make sport accessible to young people, and also its commitment to the Government's Responsibility Deal, pledging to reduce the average calories per litre in its range of sparkling drinks by 5% by the end of 2014.
Helen Munday, director of science, Coca-Cola Great Britain, said: "We want to help people understand how they can enjoy our drinks as part of a healthful balanced diet, whilst communicating the importance of an active lifestyle.
"We hope the tool helps inspire people to get more active whatever their lifestyle and time pressures, whilst providing important information about our portfolio of drinks."
Dr Whyte said: "Brits have the capacity to be active as a part of their every day routine and we've developed the tool to inspire people to look at the energy in, energy out equation.
"Everyone can fit in smart ways to be active and burn off the calories they consume. It just involves some lifestyle tweaks to make the most of your surroundings and time challenges."
Follow @loullamae_es