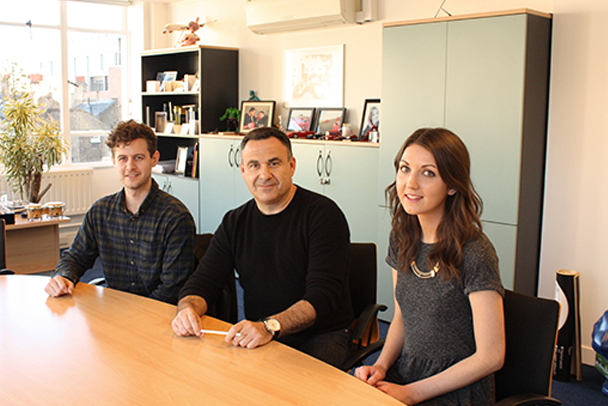 Colin responded openly and frankly to our questions, giving unparalleled advice from his 34 years in the industry, looking back to how Manning Gottlieb Media came into being, his landmark achievements along the way, and the importance of observation.
Lesson 1 – Success starts with a problem
So what was the catalyst for founding Manning Gottlieb OMD?

Colin: There was no one catalyst for founding Manning Gottlieb Media (later renamed Manning Gottlieb OMD when the firm became part of Omnicom). It was a combination of a number of things.
Start-ups in the ad agency space based on a dream or soft vision are often destined for failure. The most successful ad agencies have started from a burning desire to succeed based on blocked opportunity.
I was 29 and Nick (Manning) was 33. We were working together at Chris Ingram Associates (CIA), when it announced it was becoming a public company. Nick and I were part of a strong, young management team and were not particularly satisfied with what was being mapped out for our future.
The seed of doubt had been planted, and it so happened that a client of ours had hired a superb new creative agency start-up called Simons Palmer Denton Clemmow and Johnson (Simons Palmer). I met up with Carl Johnson, one of the founding partners – I still have the diary as a memento – and he said 'Colin we really like working with you but we want more of your time.' So I went back to my line manager and said I think Simons Palmer would like a joint venture with CIA, which was pretty swiftly put down.
The problem was I'd already said to Carl I'd set up a meeting with CIA , so I took Nick with me, and it was at that meeting, in February 1990, that Paul Simons and Carl Johnson said, "Why do we need CIA, why not you guys?" – that was our moment. I thought I had my career well mapped out, but that meeting was the conception of Manning Gottlieb Media.
Had the announcement of CIA's floatation not happened I probably would have brushed Simons Palmer's suggestion away, as at the age of 29 I had a wife and three young kids. But instead we spent the next 6 months setting up Manning Gottlieb Media which we announced to the market in early August 1990.
Lesson 2 – The work defines the moments
When Manning Gottlieb Media was first established, what was your main ambition, and do you / at what point did you think you achieved it?
ColinL Great question. There were practical things like could we get through our first year without going bust? Would we be able to attract clients? Could we hire decent people?
However the overarching ambition was would we be recognised for producing great media work? So we tried to think differently as much as possible about media, without being silly about it.
When did I think we achieved it? I'm not sure the ambition is ever fulfilled, ever. I say to my three (children) today – although they are now terrific adults – your only benchmark is yourself, to keep pushing yourself for the best work, to keep learning and questioning. I'm still painfully self-critical.
But there were a couple of defining moments where I felt more at ease that we had broken through, one being when we won Virgin Atlantic in the spring of 1993, and picking up the phone to Campaign to announce that.
[Colin at this point gets some newspapers out of the cupboard]
This means a lot to me – [showing us an Evening Standard newspaper] this is from 10th July 1996, and this post-it note was written by Judy Mitchem (now Managing Director, CMO, Ogilvy Group) who was at Rainey Kelly at the time. I'd got Evening Standard to run a strip on page 3, which at the time you couldn't do, and that there [Judy's post it note saying 'Great Media Placement'], from someone like Judy was everything to me.
Another highlight is the OOH we did for Nike during the 1996 Eurochamps at Wembley. Nike was about using its media to create noise (we call today earned media) not sponsoring the events, so I found a company to build a massive temporary poster site on the North Circular close to Wembley. So big I even had to go to the council to get permission to build it. It had a huge impact, making the national press.
Things like that – only the work matters, the work defines the moments. You know when it's good.
Lesson 3 – Keep your eyes open and connect the dots
Freddie: The media landscape has changed so much since you started out, how do you keep up-to-date with all the changes and developments?
Colin: I've given up worrying to try and keep track of every change because it's impossible. I rely on the fact that I'm deeply curious, as people in our business should be.
I like to think that people like Steve Jobs, who was a marketing genius, only ever worried about the end user experience. I think it's a fault of our business that we can easily get submerged in the tech, rather than what human problem does it solve? I'm interested in the solutions created every day; the things I can see in the world, great new ideas. Real innovation. That's what inspires me.
It frustrates me when people ask "what's happening in digital". Unless you live on a remote island or in a desert, anyone can answer that, it's all around us. In that respect work mode and personal mode shouldn't be separate – observations should inspire creative thinking.
It's a slight tangent, but it's like how you define creativity. To me the most creative work happens when people are able to take two abstract things and see a connection between them. Innovation doesn't come from process, you cannot design a process that creates innovation. That's why our business is very special. It's a balance of art and science.