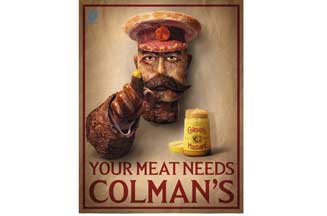 The campaign, by Karmarama, uses 16 types of meat (listed below), including Unilever's Peperami, to recreate the iconic 1914 army recruitment poster. It will run in men's mags with the strapline, 'Your meat needs Colman's'.
The figure was constructed by food stylist Peta O'Brian, who also worked on Fallon's Skoda Cake ad, and took 18 hours of cooking.
The ad features the following:
Breaded Ham
Chorizo
Beef Carpaccio
Bresola
Ginger Pig Bacon
Beef Skirt
Roast Duck
Chicken Breast
Brisket
Peperami
Fillet Steak
Sausages
Beef Steak
Bacon Joint
Leg of Lamb
Duck wings (for the ears).