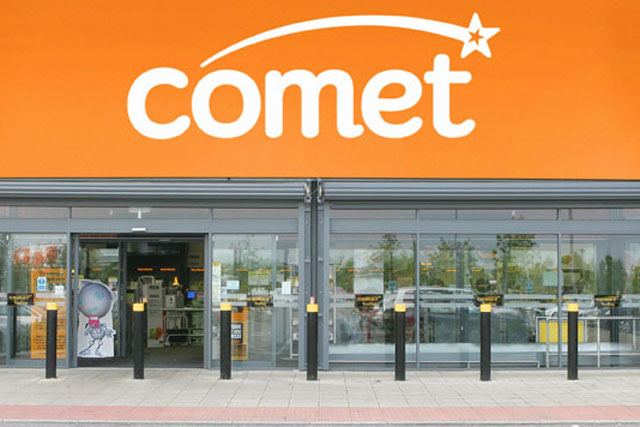 The buyer of Comet is Hailey Holdings and Hailey Acquisitions, both backed by private equity company OpCapita.
The sale comes after Comet experienced plunging revenues, which fell 22%, over the summer.
As part of the deal, Kesa said it will invest £50m in the new holding company along with retaining liability for Comet's defined benefit pension scheme, which had a deficit of £39.3m in April.
The new owner has promised to keep Comet as a going concern for the next 18 months.
But after that it could close some of its 250 stores to strip out costs from the business.
The deal is expected to be completed by February next year, when the private equity firm is expected to announce a restructure and changes to the operational running of Comet, which has suffered during the difficult economic climate.
David Newlands, chairman of Kesa Electricals, said: "While good progress has been made against the turnaround plan's strategic objectives, in reaching the view the board took into account the ongoing negative impact of Comet on the financial position of the group, the significant challenge involved in achieving acceptable level of profitability at Comet over the long term given the specific nature of the UK market, and the substantial costs involved if the turnaround proved to be unsuccessful."
In September last year, Comet rolled out a multi-milliion pound campaign based around the strapline "Come and Play". The ads, created by Euro RSCG, featured staff engaging with a range of pdoducts to showcase "expert knowledge" of Comet's employees.
As part of the revamp, Comet will launch a new, "softer" logo, while staff will be kitted out in pink, green and blue pastel-coloured uniforms to give them a relaxed and younger appearance. The new look was designed by branding agency venturethree.
The sale of Comet comes just days after Carphone Warehouse said it was ending its joint venture with US electrical retailer Best Buy in the UK, as it struggled to turn a profit.
Follow John Reynolds on Twitter @johnreynolds10