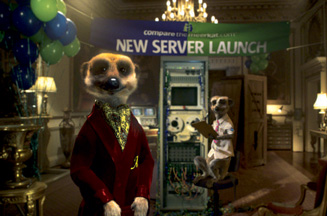 The campaign, created by VCCP, has propelled Comparethemarket into the 'big four' of price-comparison sites, and has got its rivals worried about protecting their market share. As Confused.com's chief exec-utive, Carlton Hood, says: 'The meerkat has raised the bar.'
His site has shortlisted Iris, Krow, McCann Erickson and Beattie McGuinness Bungay to pitch for its £25m ad account, which it expects to finalise in September.
Although Confused.com has maintained a constant presence on TV, it has struggled to differentiate itself from other comparison sites. Hood says it is 'considering all opt-ions' for its ad strategy in the coming year, but insists that the site has communicated its brand values well.
Moneysupermarket.com, the market leader, has also embarked on a review of its ad account, just weeks after launching DCH's £14m ad campaign featuring Dragons' Den entrepreneur Peter Jones.
According to Ian Williams, the brand's director of communications, 'The meerkat has put Comparethemarket into contention.'
Mark Vile, marketing director at Comparethemarket, says site traffic has been up 200% year on year in the last three months, while Aleksandr, the meerkat character, has 500,000 fans on Facebook.
The site ran its first TV ads in July 2007, but only started to make a name for itself this year. 'We realised there was an opportunity to be the one price-comparison site that had engaging and entertaining adverts,' says Vile.
VCCP is now working on the next spot. Launching in September, it will focus on how Aleksandr relaxes and gets away from the stresses of people asking him about car insurance.
Vile says his £25m marketing budget has not increased, but the brand's advertising has become more effective. 'It is a genuine return on a creative idea,' he explains. 'We would rather be the most profitable price-comparison site than the one with the most volume.'
The meerkat campaign has set a challenge for its rivals: to drive significant brand awareness on limited budgets.
Moneysupermarket.com says it reduced its adspend by 25% year on year. Meanwhile, Hood says that Confused.com will move into digital to 'create a more effective dialogue with consumers'.
The price-comparison sites are also expanding into sectors such as caravan insurance, although Vile warns that this could weaken their brands.
'It is a debate for all the sites; how they push into sectors that they think are untapped without losing focus,' he adds.
Ultimately, Vile is cautious about diluting Comparethemarket's new-found brand strength. 'We are the most recognised brand in the sector. It will take time to move to the number-one market position - and, obviously, that is our aspiration.'