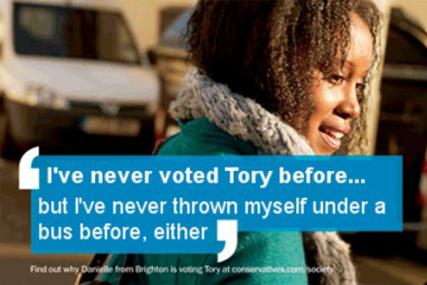 David Cameron yesterday launched the campaign, which attempts to persuade Labour voters to switch their allegiance and vote Conservative.

The billboards use the strapline 'I've never voted Tory before, but ..." and feature ordinary, but photogenic, voters.

Labour supporters hit back on Twitter and blogs and turned the strapline "I've never voted Tory before..." on its head by completing the sentence with words explaining why they had never supported the party.

The template to spoof the latest campaign was also quickly available on another Labour spoof site, Mydavidcameron.com, which was set up by Clifford Singer to attack earlier Tory billboard ads featuring the Tory leader.
Singer said he had been surprised by the enthusiasm for spoofing and was not initially sure that the site he set up would tackle the third poster.
"Within minutes of it launching there were hundreds of tweets going round so we couldn't resist adding some new templates for people to play with. Yesterday turned out to be our busiest day since our peak day during the initial airbrush campaign spoof. 15000 visitors. The challenge to us is to keep the anti-Tory message fresh which well do by limiting the posters we display to the sharpest and funniest, though others continue to wiz round Internet through Twitter. Facebook."

As a General Election looms the parties are increasingly attacking and counter-attacking through old and new media.
Conservative Party supporters have been quick to mobilise and have also been using Twitter and blogs to hit back.
While the hashtag #Ivenevervotedtory quickly rose up the ranks on Twitter, and briefly became the fourth most popular topic worldwide, Conservatives pushed their own hashtag #Ivenevervotedlabour in a stream of tweets and blog posts.
More on Brand Republic blogs
Labour spoofers hit latest Tory campaign