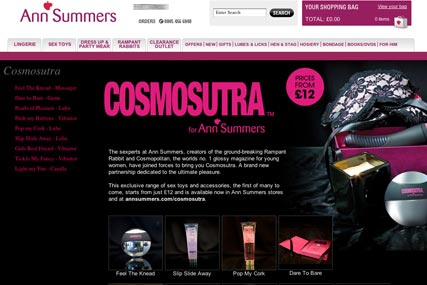 The range of products, called Cosmosutra, will be available at Ann Summers stores and via Cosmopolitan's online shop.

The products include Light My Fire (massage candle), Dare to Bare (an erotic game), Pop My Cork (champagne flavoured lickable lube) and Slip Slide Away (silicone massage lotion) – all of which are priced between £10 and £20.
The National Magazine Company has launched a number of brand extensions, such as bookazines, but this latest move is its most daring brand extension.
Magazine publishers have often utilised irreverent and sometimes risqué brand extensions to help prop up falling revenues from their core printed magazine brands.

Earlier this year, IPC lads' magazine Loaded launched an energy drink that claimed to have aphrodisiac qualities.

Jacqueline Gold, chief executive of Ann Summers, said: "Our mission at Ann Summers is to fearlessly unleash sexual confidence and I am positive that this new range will absolutely allow women to do this."