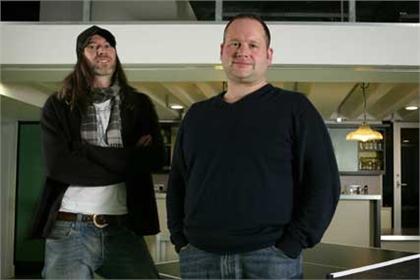 Crispin Porter & Bogusky, dubbed "the craziest ad guys in America" by the US business press, is to finally launch an official assault on the UK. The expansion of the network has been much anticipated, not least because, remarkably for an agency that was founded in 1965, it can still get away with the "creative hotshop" tag. It also has a tradition of fearlessly going that extra mile beyond the taste barrier to get a brand talked about, including giving Whoppers to people in developing countries and depicting the actor Tim Hutton having dinner at Tibet's expense for Groupon.
That fearlessness doesn't always work out (both Burger King and Groupon have split with CP&B). The agency partner Chuck Porter admits the network hasn't had a good run of late, what with losing some major clients and founding partner Alex Bogusky. But, he argues, recent travails are "not relevant" to the London opening.
"Obviously, Burger King was a great client," Porter says. "But the consensus bet when we got it first was that we'd have it for eight months and we had it for eight years." He also points out the agency has recently won new assignments for global clients such as Kraft and Microsoft, and that while Bogusky "did a fantastic job", he had been carefully transferring power to Rob Reilly, the worldwide chief creative officer, and Andrew Keller, the chief executive, for some time before he left.
With a Swedish office firmly established following the acquisition of the Swedish digital shop Daddy in 2009, and additional global expertise at CP&B, Porter believes that the time is right to expand more formally in Europe. Being rather fond of London and the approach to advertising here helped him determine the new location of the agency's European hub. "I think the UK does the best advertising in the English-speaking world," Porter says, adding: "London is full of smart, talented people and we'd like to get our share."
But there are no imperial airs just yet. Porter stresses that the network is "not about a bunch of pins on a map", but only growing when it makes sense for the agency.
The London contingent - the exWieden & Kennedy and Beattie McGuinness Bungay creative duo Ben Walker and Matt Gooden - are looking forward to making the key decisions as joint executive creative directors. "CP&B is the best place in the world. Up there with W&K," Walker says.
He also believes that the shop will help bring back some much-needed fun to the market. "We detect at CP&B a belief that anything is possible," Walker explains. "A lot of people feel advertising has lost its lustre. But we're not coalmining. It should be fun."
The new London office, based in King's Cross, will officially open on 3 June, and will work on global clients such as Milka. But, Walker says, the focus is on winning new local business.
The network aims to operate as one big global agency. With headquarters in Boulder, Colorado and offices in Miami, Los Angeles and Toronto, staff will connect with each other via video conferencing and digital technology, so that they can be pulled in on different client projects round the world.
"Our intention is to run Sweden and London as one," Darin Brown, the CP&B president Europe, says. "We are trying to build a 'post-geographic' agency, where the place you are doesn't matter, but who you are working with does."
However, some observers here warn that regardless of all the awards and industry recognition it has received, CP&B won't be able to trade on its name. "I don't think for most UK marketers the name means anything," Neil Christie, the W&K London managing director, says. "They will have to make a name for themselves, given the campaign most people know them for here is Burger King, which they've just lost."
Fortunately, having to enlighten UK marketing directors is not something likely to phase Porter, who asserts: "You have to do stuff without fear."
US AGENCIES OVER HERE
Arnold KLP
Arnold London opened in June 2008. The London office and Euro RSCG KLP merged to form Arnold KLP in September 2010. The management team is Phil Bourne, chief executive, Johan Fourie, managing partner, and Hugh Treacy, managing director. The shop's major clients include Dulux.
Anomaly
Paul Graham, the former managing partner of Saint, launched Anomaly in the UK in January 2009. The team includes founding partner Graham, the strategic partner, Geoff Gray, the head of digital, Nathan Cooper, and Walter Campbell, who joined last year as creative partner. The office opened with Converse as a client and has won Umbro, Sony, Bench and InBev.
R/GA
R/GA opened its London office in December 2006. The management team comprises Jim Moffatt, the managing director, and James Temple, the executive creative director. Clients include Nestle, Nokia and Nike.