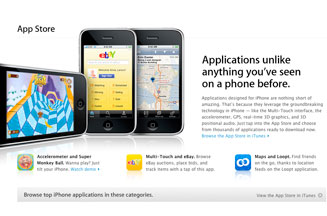 Apps (applications) for mobile phones have quickly become the latest advertising bandwagon. However, questions remain over whether they create real affinity with consumers.
Probably the most famous example of a marketing app is the iPint. Created for the iPhone last year by Beattie McGuinness Bungay, it allows users to 'pour' and then 'drink' a virtual pint of Carling lager. The free software has been downloaded several million times from Apple's App Store.
While the iPint generated significant buzz - in part due to a lawsuit brought against Carling by app-creator Hottrix for allegedly ripping off its iBeer app - some agencies argue that it is difficult to measure the real value of these small computer programmes to brands.
Last month, the Apple App Store, which was launched in July 2008, marked its billionth download. Apple's marketing team has been quick to catch on to consumer interest. Its TV ads focus not on the device but on the ease of use of iPhone applications, with the strapline 'There's an app for that'.
However, it should be remembered that Apple still has a market share of less than 2% of the global mobile phone market, and its iPhone is a relatively expensive device available from only one UK mobile operator, O2. So should cash-strapped marketers be investing in branded applications?
Simon Davies, marketing director of Coors Brewers, which owns Carling, said the iPint was the 'right application for the moment' as it came out shortly after the 3G iPhone had launched in the UK, at a time when people were keen to show off the capabilities of the handset. He admits it would be difficult for Carling to release another app with the same level of success.
Gareth Phillips, managing director of interactive agency Syzygy, says the iPint 'set the bench-mark for enter-tainment apps'. Other brands are catching on and offering free quality content. Cobra Beer's iBanter app, for instance, enables users to hold their iPhones up to their faces while playing close-up video of a comedian's mouth to give the impression that they are telling the joke.
Matthew Charlton, managing director of ad agency Modernista! describes the iPint as 'a digital stunt' but 'terrifically fun'. However, he adds a note of caution. 'When you really boil it down, there are better ways of spending development money.'
Digital agency Publicis Modem's chief strategy officer Tony Effik agrees. 'We are not trying to do the gimmicky stuff. The development of the market is in utility apps that are an extension of the brand,' he says. Publicis client easyJet will launch a snow report iPhone app later this year aimed at ski-resort-bound passengers.
However, Steve Vranakis, creative director at ad agency VCCP, argues there is value in offering consumers a 'gift' to generate brand awareness. His agency created O2's Christmas app, which included a snow globe, mistletoe and sleigh bells. 'Marketing should not always be about commercial messages and bugging people, but about relating to people on a new level,' he says.
Consumer backlash
Some apps, including iFart and iShoot, have made their software creators enough money to retire on. There is no easy money for brands in apps, though.
Phillips says it is 'rare to see entertainment from a brand that a consumer would be prepared to pay for'. Companies offering utility apps may be able to charge for them, but it carries a risk. National Rail Enquiries, which recently withdrew an information licence from free iPhone app My Rail Lite, suffered a backlash from users who now have to fork out £4.99 for another app to get the updates.
Few apps have the longevity to justify significant investment from brands. Pinch Media data shows that fewer than 5% of people continue to use a free app 30 days after downloading it.
However, Effik argues that brands should have a presence where the consumer conversations are occurring. 'Like Twitter, there is low penetration for apps, but, as a brand, you have to do the sexy things as well as what puts the bread on the table,' he says.
The challenge for the future, as more brands try to make their mark on this market, will be to create an app that can achieve genuine standout.