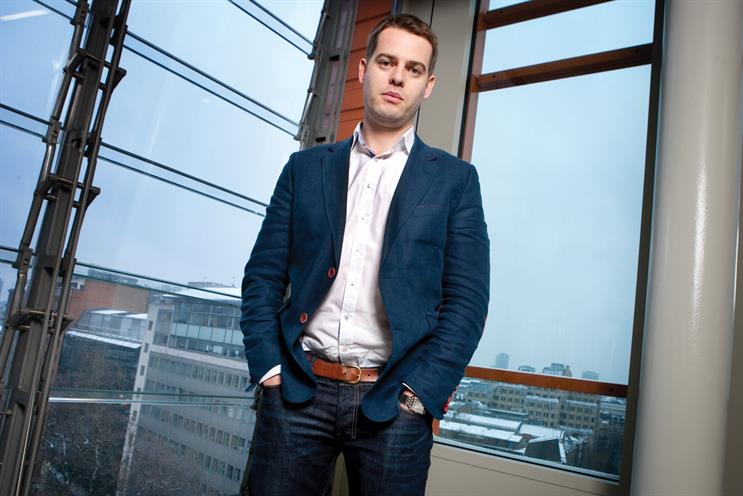 At first glance, WPP's established media agency (now servicing the likes of Sony Music Entertainment, the Post Office and, of course, Unilever), with its 375 staff and global network and Group M dynamic, could seem a lot for Mark Creighton to take on. But then you start to talk to him.
The more industry touchpoints we cover, the more it becomes apparent that the 36-year-old isn't just the new chief executive of Mindshare, he is the new chief executive of every progressive media agency in the UK.
His experience as the managing director of the digital pioneer i-level has helped cultivate a "tech" approach to the media business, with much talk of "collaboration", "partnerships" and "harnessing specialists". Underpinning all this, Creighton is in no doubt that his success will also be aligned to those unyielding yardsticks of revenue growth and profit margins, calling new business "very important" going forward.
The agency's official billings for 2012 are still being calculated, but are expected to total around £700 million. It would represent a dip on 2011's £740 million, a reflection of clients' tightening budgets. However, diversifying interests and a consultancy-led approach beyond measured media is said to have ensured revenue growth.
"Planning and buying is still the gut of the agency," Creighton says. "But the big difference is that we are no longer talking about this flat, paid media plan, neatly defined by horizontal lines of the channel, the weight and the frequency."
And so begins a romp through today's panoply of paid, owned and earned media, and the pressing need for agencies such as Mindshare to help clients understand the new opportunities.
"Fragmentation, new platforms, technology, consumer behaviour… there is nothing set," he enthuses. "It's all up in the air, so you can go and explore it."
For the erudite Mackem, such disruption is clearly exciting. Acknowledging the tough economic climate that is also buffering his client roster, which includes two of the UK's biggest advertisers in Ford and HSBC, he adds: "My job is to say: 'There's opportunities to answer your challenges through this brilliant media landscape – you just need to be brave with me to find them.'"
Having sat nestled within Mindshare's management team for two-and-a-half years, he feels ready for the challenge. How much he had to wrestle control from his predecessor, Jed Glanvill, is something neither will let on. But their relationship is clearly solid and one of mutual respect. Creighton will continue to report to Glanvill in his new role as the chairman and regional leader.
Not too long ago (2005), Glanvill himself was the bright, young star when he became the chief executive aged just 36. A sign, perhaps, of the speed of change sweeping the industry? Or maybe, more simply, confirmation of Martin Sorrell's love of exporting senior talent around his international WPP empire (Glanvill becomes regional leader for Southern Europe).
Regardless, Glanvill is "absolutely sure" Creighton is the right person to take Mindshare forward, despite his "strange thing about wearing multicoloured socks every day".
"He'll build on our culture and drive our product offers as all media becomes ad-served, technology-driven and biddable," Glanvill says. "He has already helped set the 'change' agenda, with clear articulation of the road map to individual departments and the company as a whole."
Since Creighton joined the agency in the autumn of 2010, it has moved from the Strand to the Central Saint Giles complex, where it was joined by that epitome of media progressives, Google. The two have since launched a number of initiatives together, including Mobile Garage last summer – a venture designed to use Google's mobile expertise to supercharge the use of the medium among the agency's client base.
Around the same time, Mindshare's global chief executive, Nick Emery, made much of repositioning the network as an "open source" operation, aspiring to partner with the best and to embrace trial and experimentation. Creighton is the embodiment of such an ethos, a firm believer in there being "no hierarchy for ideas" – he singles out the agency's collaborative work for Nike and Lynx as beacons of best practice. He also has no qualms in celebrating its rival ZenithOptimedia's success in harnessing social media for O2.
"The days of working on a media strategy while someone else is looking at the digital creative strategy, and the client is left to tie it all together at the end, are gone," Creighton says. "Great media ideas deliver great business results. It's about connecting it all together."
Many challenges lie ahead, and high on the radar are ambitions to cultivate a longer-term approach to new business while nurturing the role of a trusted advisor to his clients. "The media world has never been more exciting," he beams. "If you can't be excited about it now, get out. It's never going to get any better."
Creighton CV
September 1999:
Account executive,
All Response Media
August 2003: Director, i-level
January 2006: Managing director, i-level
September 2010: Chief operating officer, Mindshare
January 2013: Chief executive, Mindshare
The lowdown
Age: 36
Family: Married to Georgina. Children Rory (three-and-a-half) and Murray (five months)
Lives: Twickenham
Education: Politics at Durham University
Hobbies: Cooking, golf, skiing and crickets