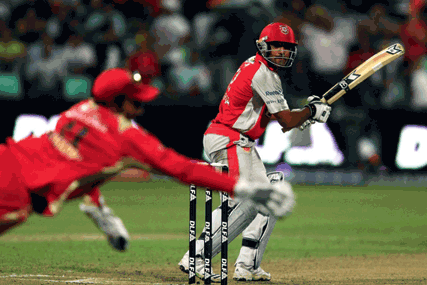 The deal, for the third season of IPL, will result in digital channel ITV4 broadcasting 59 live, free-to-air matches over the 45-day season, beginning from 12 March.

The partnership also includes online rights for ITV.com, and the broadcaster is expected to announce a digital strategy for the tournament at a later date.

Live TV coverage, produced by ITV Sport, will be presented by Matt Smith, alongside Bollywood actress and presenter, Mandira Bedi, who hosted Cricket World Cup coverage in India.

They will be joined by cricket analyst Simon Hughes, with further guests to be announced.

Zai Bennett, director of digital channels and acquisitions, at ITV, called it an "exciting acquisition".

Since its launch in 2008, the IPL has become a major international sporting event. Last year, it attracted a worldwide audience of more than 450 million, despite being held in South Africa after safety concerns in India.

This year's season will take place in India, with eight teams playing Twenty20 cricket. Four new venues have been added to the tournament: Nagpur, Vishakhapatnam, Ahmedabad and Dharamsala.

Permission has been granted to players who were involved in the Indian Cricket League to play in the tournament.
In January, Marketing revealed that Google has secured the rights to stream 60 matches from this year's IPL cricket on YouTube.

The non-exclusive global deal will now run in conjunction with ITV's coverage, which will be heavily promoted across ITV.

ITV4 is part of the UK's most popular family of digital channels and ranked as the seventh most-watched multi-channel over 2009. It is available free-to-air on all platforms including Freeview, Freesat, Sky and Virgin.

ITV4's sporting portfolio already includes The FA Cup, Europa League, Tour de France, Guinness Premiership Rugby, British Touring Cars and Isle of Man TT.