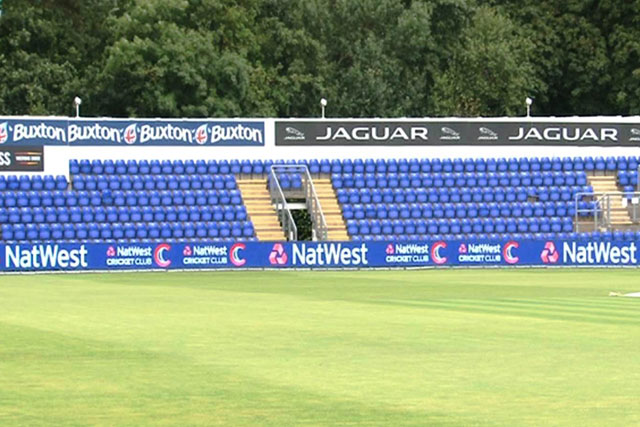 The England & Wales Cricket Board (ECB) is running a trial that will allow its commercial partners to use the dynamic displays, which have featured in Indian Premier League matches, in place of traditional static boards.
Some might say it's a case of advertising overstepping boundaries, but players have been informed of the move and there will be no movement during play, according to an ECB spokesman.
The displays will remain static when the bowler begins his run-up, and switch to moving displays once the ball is dead, so as to not distract the players.
The boards will cover almost the entire perimeter of Glamorgan's SWALEC stadium in Cardiff, but will not be placed directly in line with the playing strip.
Around 16,000 fans are expected to see the sold-out international game and the boards will be in operation the following day (Saturday 25 August) for the sold-out Friends Life t20 Finals Day fixture.
If the trial is successful the ECB could roll out the displays in all forms of cricket including test matches subject to consultation, according to the spokesman.
ECB partners set to feature on the displays on Friday include NatWest, Brit Insurance, Laithwaite's, Stowford Press, Jaguar, TM Lewin and Marston's.
On the Saturday, the majority of the exposure is reserved for title sponsor Friends Life, but various other partners and regional advertisers also have spots.
Digital displays were trialled earlier in the season at the SWALEC during a domestic match, but only around a fifth of the perimeter, according to the ECB.
Mark Pearce, head of commercial partnerships at the ECB, said: "Digital advertising boards are a great tool for our commercial partners to offer more engaging branding to fans watching in the stadium, and at home on Sky Sports HD."
Jenny Smith, sports brand partnerships manager at Jaguar Cars, said: "As a proud partner of the ECB, we welcome this testing of digital advertising, which allows us to be more creative with our branding at cricket matches."
Follow @DanFareyJones